RSPCA shares it's 'loneliest hearts' looking for their forever homes
The RSPCA South Cotswolds branch is hoping to find loving forever homes for three of its 'loneliest hearts' being cared for by the charity.
Barbossa, Gordon and Quentin are all cats looking to find homes after they came into the care of The Cotswolds Cats and Dogs Home recently.
Haley Medlock, Digital & Community Fundraiser at The Cotswolds Dogs & Cats Home, said:
We're appealing to find homes for three homeless cats in our care who are patiently waiting to find their loving new owners. Each of these cats came in as a stray which means that they were living on the lonely streets without anyone to care for them before being rescued by the RSPCA. Now they are receiving the care and attention they need whilst they wait to find their forever homes.
Cats looking for new homes
Gordon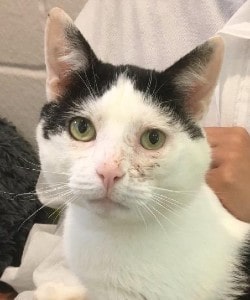 Gordon is a eight-year-old black and white male cat who was living as a stray for a long time but now wants a nice home to retire to peacefully.
Since coming into the charity's care in April, he has shown that he absolutely loves people and fuss so would be suited to a home where his owners are around for most of the day.
He can be nervous with new people at first but once he gets to know a new person, he is very friendly and likes sitting on laps for lots of fuss.
He would be most comfortable in a calm and quiet environment so would be best suited to an adult-only home without other pets. Unfortunately, he has a few on-going medical conditions which will need monitoring and so he would benefit from having an experienced owner who can administer medication to help him heal. He has an old injury to his eye which flares up every now and again and will need monitoring.
Barbossa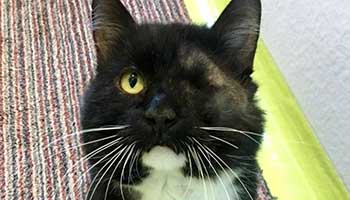 Barbossa is a three-year-old male black and white cat who came into the charity's care as an injured stray in March. He had a very swollen left eye which needed to be removed, hence his pirate name Captain Barbossa.
Throughout the process, he has been such a good boy and has adapted well to having one eye but it does mean that he is a little wary of people and fast hand movements.
Once he trusts a new person though he becomes the most affectionate cat. Due to his nerves and his vision, the branch is looking to rehome him to a family with teenagers or older.
Quentin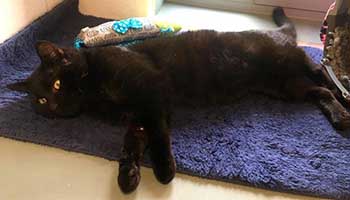 Quentin is a large male black cat who is estimated to be around a year old. He arrived at the centre in April with cat fight wounds on his face and neck which sadly has resulted in Quentin being diagnosed with FIV.
This poor boy is finding cattery life a little stressful but he does like a fuss as long as it's on his own terms and slowly but surely he is becoming more trusting every day. He's had a difficult life so far and is looking for somewhere that he can finally settle down and fully relax.
Unfortunately, as Quentin is FIV positive (Feline immunodeficiency virus) he will need to be rehomed as an indoor cat. He would appreciate a sunny window to sit and watch the world go by and will also need his owner to take time to ensure he is entertained indoors, such as playing with wand toys, providing enrichment boxes or puzzle feeders and plenty of catnip.
Quentin is looking for an experienced cat savvy owner, who will be able to provide him with the time and space to settle in at his own pace into an indoor lifestyle, this would be best suited to a quiet adult-only home.
Get in contact
If you think you can give Gordon, Barbossa or Quentin a loving home please contact the RSPCA South Cotswolds branch on reception@cdch.org.uk or call 01453 890014.
---