London 'does the double' as capital duo win RSPCA-backed debating competition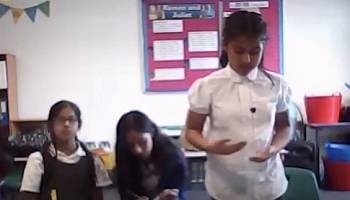 Two London-based schools have won a prestigious RSPCA-backed debating competition, as the top primary and secondary school competitors are announced after hundreds took part.
Elmhurst Primary School and Sydenham School have won the Debate Mate Cup x RSPCA Grand Finals, beating off competition from 24 other schools in the two grand finales - with separate RSPCA-supported events for primary school pupils, and for secondary school pupils, for the very first time.
A total of 130 primary and secondary schools took part from the very beginning of the Debate Mate Cup competition.
Participating schools had come through a series of heats to reach the final day - before schools were further whittled down through a series of quick-fire rounds, including discussions on whether people should have to pass a test before owning a pet. Both finals were live-streamed to the world.
A highlights video shows footage from both debates - including the moment the winning schools were announced by the RSPCA's head of education and chair of the debates, David Allen.
The RSPCA has run its 'Great Debate' competitions for a number of years, and this year expanded the scheme by teaming up with fellow charity Debate Mate for their prestigious 2021 Grand Cup Finals.
Debate Mate is a global educational organisation, aiming to power social change through equipping children and young people with the skills and confidence to become world-class communicators through their after school debate clubs.
In the primary school finale, Elmhurst Primary School (proposers) and Regents Park Primary School (opposition) from Birmingham reached the final two schools, where they debated whether school pupils should spend as much time studying wildlife as they do mathematics and English.
The motion read: "This House believes that schools should spend as much time teaching students about wildlife as they do teaching Maths and English."
The RSPCA supports animal welfare being taught in schools, and continues to urge the UK Government in England to adopt it on the curriculum, and for the Welsh Government to ensure new Areas of Learning and Experience in schools include a focus on animal welfare - but "persuasive, passionate arguments" were made on both sides.
In the secondary school finale, Sydenham School (proposers) faced Sarah Bonnell School (opposition) from Stratford, East London and debated the topical and emotive issue of animal sentience.
The motion read: "This House believes that legally recognising animal sentience is the most important step for promoting animal welfare."
The UK Government has recently brought forward an Animal Welfare (Sentience) Bill, which will create a Committee which scrutinises all UK Government policy for the impact it has on the welfare of animals as sentient beings. The RSPCA is also urging the Welsh Government to do similar for devolved policy-making in Wales.
Herchy Boal, RSPCA inspector, was a guest speaker at both finals, discussing her work on the frontline as an RSPCA inspector with the "animal welfare champions of the future".
RSPCA head of education David Allen said:
"The RSPCA sends massive congratulations to Elmhurst Primary School and Sydenham Secondary School for winning the Debate Mate Cup x RSPCA Grand Finals. They should be so proud of their achievements.
"London has done the double - but it's been amazing to see hundreds of schools from all across the UK take part in the Cup, and some 26 schools compete in the final rounds. The standard was exceptional; and we were bowled over by their research, confidence and passion for the animal welfare topics discussed.
"Both finals were so inspiring - and we certainly saw the animal welfare champions of the future make such persuasive, passionate arguments on both sides of two compelling motions.
"Debating competitions have been an important part of the RSPCA's Generation Kind scheme recently - with our Great Debate events inspiring young people in recent years. But we were particularly delighted to partner with DebateMate this year to reach even more children and to work with primary school debating teams for the very first time.
"The RSPCA has an ambitious strategy to reduce animal neglect and cruelty by half by 2030 - and listening to school pupils debate ethical topics linked to sentience, I am more confident than ever that the nation's animals will be in very safe hands for years to come."
Sam Creighton, head of oracy at Elmhurst Primary School - who also won the Debate Mate league this year - said:
"I'm so proud of the children. They've worked incredibly hard - and not just at the big occasion. It was the culmination of so much effort - through regional heats and even additional rounds at the final. They performed so well in pressurised situations that even adults would struggle with - coming up with arguments for and against topics in such a short space of time.
"The pupils found the animal welfare element fascinating. We looked at the role of wildlife on the school curriculum - and they found it enlightening; and I saw so much discussion around the natural world around us and undoubtedly some lifetime, passionate advocates for the issue were made.
"Animal welfare is 100% something we will look to incorporate into our future debating sessions. We had some brilliant discussions about how we as people exist in the world, and how we ensure the animals and natural environment we live around flourish."
Gloria Lowe, Sydenham School headteacher, added:
"We are incredibly proud of our Debate Mate Team, whose hard work has brought them national success in this competition. Debating is an important skill and an excellent confidence-building tool for our wonderful students.
"The topic of animal welfare is one which continues to have an important place in our national conversation. I have no doubt that with the skill and dedication of the young people involved in the Debate Mate competition, this conversation will be had eloquently and thoughtfully in the years to come. Congratulations to everyone involved - this is a great achievement."
---