Lockdown lifeline pup spends first Christmas in his forever home
A puppy that came into our care as an unexpected litter last Christmas has found his forever home.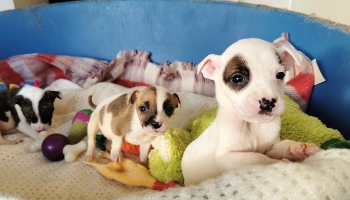 At just six-weeks-old, Jensen and his brothers and sisters spent their first Christmas in our care but this year is looking very different after being rehomed by Dawn, who absolutely adores him.
Six-week-old Staffie cross pups Jasmine, Jack, Jacob, Jonny, and Jensen arrived at our Millbrook Animal Centre, in Chobham, Surrey, on 11 December last year.
They were signed over into our care after their owners - who hadn't planned a litter - were struggling to cope.
Staff at the centre spent their Christmas weaning the puppies and feeding them, playing with them and beginning to teach them important life lessons like how to socialise and getting them used to people.
In January this year, the litter found loving homes. Jensen was rehomed to Dawn Walker in Guildford and little did she know he'd help her through the looming coronavirus lockdown.
Dawn said:
I'd been looking for another dog after my dog Sabe, a labrador cross who I adopted from the RSPCA four years ago, sadly passed away. I'd lost him the summer before so I'd been without a dog for six months and I was really lonely. We've always had dogs, they've always been in my life so I was really quite sad without a dog. Jensen was the third dog I'd seen and liked but the others had been snapped up.
Me and the other adopters for his brothers and sisters all turned up to see them on the same day! Jensen and I got on ever so well and he was such a gorgeous little thing.
Jensen has kept Dawn in good company during lockdown
Dawn brought Jensen home on January 2 and he quickly became Dawn's shadow, following her around the house everywhere.
She added:
He's eight months old now and it has taken him a while to calm down, he's a bit like a teenager!
We started him with puppy classes and he visited my parents and their two Jack Russells to get him used to other dogs but then the lockdown happened and all that had to stop.
Dawn, who worked as a home carer before becoming a volunteer rehoming co-ordinator at Millbrook, has Crohn's disease so she has had to self-isolate throughout the Coronavirus crisis.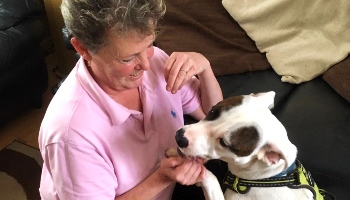 Dawn Continued:
"Jensen has become such a lifeline to me this year. Self-isolating has been tough so it's been fantastic to have Jensen by my side keeping me company. He's my constant companion and I'm very grateful to him. He's such a friendly dog. Every time he sees a human or another dog he just wants to say hello, he's so sociable which has been difficult with Coronavirus as he doesn't understand that he can't go over and say hello."
Not all dogs are lucky at Christmas
On Christmas Day last year, there were 605 dogs in our care including the Staffie puppies. There were 769 dogs rescued throughout December - that's 24 a day.
Dogs were also the most abandoned pet last winter with 2,425 abandonment reports for dogs coming through to our cruelty line. This means dogs accounted for more than half of all the animals abandoned (4,650) throughout December, January and February.
Donating £50 could help feed all the rescued animals in one of our centres for a day. This winter, we expect to rescue thousands of animals from neglect, cruelty and suffering. To help our rescue teams reach the thousands of animals who desperately need us, Join the Christmas Rescue.
---