Live exports: 'Half a century of campaigning but no justice for animals'
The RSPCA is deeply concerned that the UK Government is about to drop its pledge to end live transport of animals.
Concerns come as the charity reveals that the Kept Animals Bill, which was supposed to ban the live export of animals, has - as of today (24 March) - been in limbo for "an unbelievable" 500 days.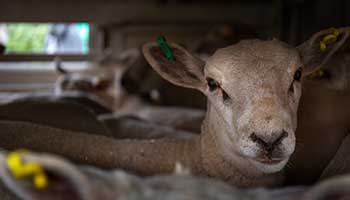 Recent comments from a former Environment Secretary suggest the UK Government could drop this vital legislation, despite 54% of the public supporting a ban on live exports, and an end to a trade that sees animals face long and gruelling journeys to slaughter.
And now the RSPCA has revealed that it is 500 days since the Kept Animals Bill, which was set to ban the live export of animals, had any meaningful parliamentary activity - leaving animals hauled across the continent in a state of limbo.
The RSPCA has campaigned for more than 50 years on the issue - which has seen millions of signatures on petitions, thousands attending protest marches, and weekly demonstrations from members of the public at UK ports. But despite the strength of public feeling, there is concern the UK Government is set to once again back-track on its promise to ban live transport of animals.
Today, around 1.6 million farm animals – cattle, sheep, pigs and horses – are transported huge distances across Europe annually, some for slaughter, others for further fattening, on gruelling journeys that can last tens of hours, exhausting the animals and causing suffering and even death.
Animal welfare supporters are being urged to email their MP, so their parliamentarians can try and stop the UK Government from backtracking on its pledge to ban live exports.
Chris Sherwood, CEO of the RSPCA said:
Despite more than half a century of campaigning, there is still no justice for these poor animals.
It's now an unbelievable 500 days since the UK Government's Kept Animals Bill had any meaningful parliamentary activity - and we're growing increasingly concerned that this legislation could soon be dropped altogether.
The UK Government acted to improve animal welfare in the live transport trade as far back as 1914 when the RSPCA successfully called for laws to protect horses transported by ship to Europe. They even introduced a temporary ban on sheep exports in the 1970s, but sadly backtracked - and five decades later, these farm animals are still needlessly loaded into trucks and forced to travel long distances.
When we left the EU, the UK Government said Brexit would finally allow us to ban live exports and uphold higher standards for animals in this country, and that's why the 2021 announcement of a Kept Animals Bill was a landmark achievement and commitment to animal welfare. We and other organisations couldn't have been prouder of our UK Government for this landmark achievement. The public wanted it, animal welfare charities demanded it, and many MPs supported it. But progress has totally ground to a halt.
We now fear another shocking U-turn, and this key legislation to be scrapped altogether, or simply running out of time.
But for the sake of these animals, the Kept Animals Bill must proceed; if it doesn't, the UK Government will break its promise to the UK people to end this suffering and condemn countless farm animals to many more years of cruel and unnecessary journeys. We now urge the animal-loving public to contact their MP, so they can highlight how important it is to keep this legislation on the road.
Risk of suffering on an enormous scale
The unnecessary risk of suffering includes mental exhaustion, physical injury, hunger, dehydration and stress from the extremes of heat or cold. Overstocking, vehicle or ship malfunctions and journeys involving animals too sick or injured to be exported in the first place. Animals are continuously made to take long, crowded journeys in conditions which are either far too hot or far too cold, all while access to food and water is not just a challenge but sometimes impossible.

Under EU rules, once an animal leaves the UK, there is no control over their final destination or slaughter method. There are no limits on transport of animals - indeed an animal can travel all around the world provided rest stops are applied.
More than half a century of campaigning
March 2023 - Kept Animals Bill reaches 500 days in limbo - since Committee stage in November 2021
2023 - Reports the UK Government could abandon the Kept Animals Bill, its landmark law to improve animal welfare
2021 - 'Kept Animals Bill' is announced, which includes a ban on live exports.
2019 - The 2019 Conservative Party manifesto includes a commitment to "end excessively long journeys for slaughter and fattening", describing this as "one of the many benefits of leaving the European Union". They won a landslide majority of 80.
2017 - MP Theresa Villiers tables a Ten Minute Rule Bill on imposing a ban on live exports of farm animals, and over one million EU citizens called to #stopthetrucks
2014 - huge protest march in London with RSPCA, KAALE and CiWF, to ask Defra Minister to stop live exports
1990s - multiple demonstrations at UK ports calling on the trade to be banned.
1974 - The Report of the Committee on the Export of Animals for Slaughter in 1974 makes recommendations about the need for veterinary supervision, the feeding and watering of livestock, journey limits and re-imports and slaughter methods.
1970s - RSPCA created a 'Special Operations Unit' of dedicated undercover officers, initially to trail and track lorries and record data.
1973 - UK Government approves a temporary ban on exporting sheep, but this resumes again in 1975
1957 - Balfour Committee deems banning the export of live animals for slaughter desirable but concludes it is not feasible due to the lack of suitable transport
1914 - The Exportation of Horses Act (relating to five ports) goes through Parliament, following campaigning from Ada Cole - who founded World Horse Welfare and later did research for the RSPCA's special operations team - along with RSPCA.
A specialist covert team was formed to record the horrors
The RSPCA's 'special operations unit' today is responsible for investigating the most prolific and serious animal welfare crimes such as organised illegal puppy farming, dog fighting and violent wildlife crime, but the team was established during the 1970s with the purpose of tracking and trailing lorries used to export live animals across the continent.
Over several decades, the team tracked lorries across Europe to a huge number of countries including France, Belgium, Spain, Germany, Holland, Portugal and Greece, as well as a series of eastern European trails alongside World Horse Welfare, following lorries of horses from Russia, Poland, Ukraine and Romania down to southern Italy and into abattoirs.
After witnessing shocking scenes of suffering inside the lorries they covertly tracked, the team was committed to gathering as much data as possible, which was used to drive the closure of some meat markets and securing legislative change such as the regulations on rest times, water provision and vehicle specs. The team was awarded a medal from Eurogroup For Animals for their contribution and also gained some high-profile press and media coverage, which no doubt increased public awareness and support for the campaign to ban the trade.
No excuses
In April 2023, New Zealand will introduce a ban on live exports, after Ministers committed to protecting 'the reputation of not just farmers now, but the farmers of the future.' Australia is also committed to reviewing their policy and examining the case for a ban on live exports this year.
The charity is urging the UK Government to keep its promise for the Kept Animals Bill to remain intact, for the countless animals that were promised protection, and for a kinder, compassionate Britain.
Campaign for us
Join us in initiating political and behvioural change - get involved in our campaigns or sign up for our campaign newsletter for regular updates about how you can help.