Litter warning after plastic guttering strangles cat
The RSPCA is reminding people of the dangers litter can pose to animals, after a feral cat became trapped in a piece of discarded plastic guttering.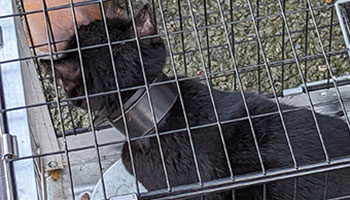 A worried member of the public called the RSPCA for help after he noticed a cat being strangled by a piece of guttering near Heathrow Airport on Tuesday 7 February.
The animal welfare charity is using the incident to highlight how a "careless moment" of littering can cause real issues for animals - and urging the public to be responsible and dispose of their waste properly.
RSPCA inspector Francesca Tambini said:
A gentleman alerted us to the struggling cat, after seeing the poor thing running around stuck inside the plastic tubing. The cat is one of a few feral cats he kindly feeds and takes care of.
With the help of my colleague, I was able to set up a trap to catch the cat so we could cut away the guttering and check for any injuries. Thankfully the cat was in good health and uninjured so we were able to do a speedy rescue and release.
It's heartbreaking to see an animal caught up in plastic waste. Thank goodness someone saw what had happened before it was too late.
It's unlikely the poor cat would have survived for long like this, the tubing must have prevented grooming and eating. We aren't sure exactly how long the tubing had been there, but likely it had been a few days.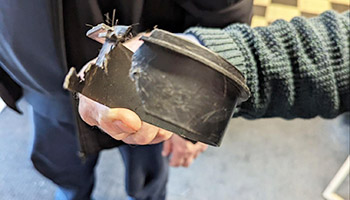 Littering can have a serious and life-threatening impact on animals. On average, the RSPCA receives 10 calls a day about animals affected by litter.
Francesca continued,
Everyday objects that seem perfectly safe can become hazardous when animals come into close contact with them.
Animals can become easily entangled in litter and suffer deep wounds or even choke. It may seem like a harmless act to toss a bit of rubbish, but that one careless moment could be issuing a death sentence to an animal. By binning our rubbish responsibly instead of littering, we're making choices that could save many lives.
If you see discarded litter, pick it up safely and put it in the bin, remembering to wash your hands thoroughly after.
To help the RSPCA continue rescuing, rehabilitating and rehoming animals in desperate need of care please donate today.
---