RSPCA reveals brutal knife crime attacks on animals
The RSPCA has today revealed the extent of the deliberate cruelty inflicted on animals, who have been slashed and stabbed in shocking attacks as part of their Cancel Out Cruelty campaign.
The animal charity received a horrifying 130 reports of knife attacks on animals each year on average - more than two every week.
Frontline rescuers for the charity, are brought to tears as they recall the animals they have helped including a horrific incident where a dog's throat had been slashed in a moving film by the charity.
Inspector Steven Morrall said:
A situation arose from a domestic argument where the boyfriend slashed the throat of the dog in front of the girlfriend.
It is difficult to imagine how terrified this dog would have been and how much pain and suffering she went through because of this callous act of violence.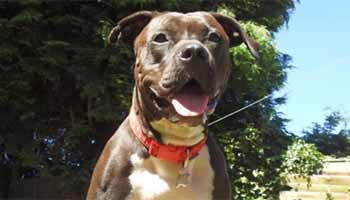 Steve rushed the bleeding dog to the RSPCA's Birmingham animal hospital where a vet found the knife had missed a main artery by one millimeter. She was treated over the following weeks with painkillers and antibiotics and made an excellent recovery.
Sadly hurting someone's animals in order to control and manipulate them was one top causes of cruelty according to a survey of RSPCA frontline rescuers.
Lexi's attacker was disqualified from keeping animals for life and sentenced to five months in prison and she was adopted by Darren Chambers and his family who live in Worcestershire.
Darren said:
She has got a scar on her throat and we were told that when she arrived at Birmingham Animal Centre she was very distrusting of men, which isn't a surprise after what happened to her. But the staff spent a lot of time helping her trust men again, they made sure that she gradually got used to male members of staff.
She has a lovely life now, she's absolutely golden! She just loves fuss and being around people. It disgusts me that someone did what they did to her but she is so happy now.
The RSPCA has recorded 1,306 incidents relating to knives over the last ten years with 149 in Greater London followed by Greater Manchester with 61.
The RSPCA has seen dogs with their throats slashed, stab wounds to the chest and one even thrown in a bin after a callous attack. Other pets and wildlife are also targeted.
Frontline rescuer Herchy Boal, said:
We are also seeing far too many shocking incidents of blades being used on animals and the injuries are horrific.
Our inspectors and animal rescuers are on the frontline of animal welfare and come face to face with cruelty and neglect on a daily basis however these deliberate and horrific attacks on defenceless animals are heartbreaking.
Even during the coronavirus pandemic we received more than one million calls over the year and the cruelty didn't stop.
A survey of the RSPCA frontline officers, who rescue animals 365 days a year in England and Wales, found that 73% of them thought a leading cause of cruelty was that people do not understand that animals are sentient beings with thoughts and feelings.
Herchy added:
It's vitally important that we teach the next generation to be kinder to animals, to explain they have feelings and emotions like us.
We can build a kinder society for animals and people. Together we can Cancel Out Cruelty.
Here are some more of the most shocking cases RSPCA inspectors have had to face
Staffy found dumped in a household bin
A man stabbed his Staffordshire bull terrier dog to death and left him in a household bin after the attack. He had been heard shouting at the dog before the attack took place. He stabbed his dog twice through the chest bone, breaking his ribs and puncturing his heart, before dumping him in a bin outside along with the dog¿s bloodstained bedding and the knife used to kill him. The man was jailed for 23 weeks and disqualified from keeping animals for 20 years.
Teenager stabbed Patterdale terrier
A teenager stabbed a Patterdale terrier type dog to death using a knife. Veterinary evidence suggested the dog was held down whilst he was stabbed twice during the attack. The dog managed to escape and was found a few minutes later, collapsed in a pool of blood. He sadly died from his injuries in the arms of one of his owners. The inspector said; "This was a horrendous incident which caused the suffering and death of a dog and enormous distress to the dog¿s owner". The man was jailed for four months and disqualified from keeping animals for five years.
Mutilated hedgehog
A hedgehog endured deliberate suffering by being mutilated and burned. Police found the animal in the man's tent where there was an overwhelming smell of burning flesh and hair. There was a lit candle on the floor held upright in a jump lead clip and scissors nearby. Both it's hind limbs had been severed completely, the front left leg was missing and the front right leg barely attached. The hedgehog's spines around the top of the head and sides were burned or singed and the animal had candle wax over its face. Screams had been heard, thought to be the defendant pretending to be the animal screaming "Help me" as he tortured it. He said "It's only a f*cking hedgehog". The animal was put to sleep on veterinary advice. The vet thought different implements had been used to transect the four legs - probably scissors and a knife. The man responsible was found guilty and sentenced to six months immediate custody and disqualified from keeping animals for 10 years.
Cancel out Cruelty
Help the RSPCA Cancel out Cruelty, the charities interactive Cruelty Hotspot map shows how many reports of intentional cruelty to animals the charity has received for each county in the last five years.
The RSPCA's rescue teams need support to stay out on the frontline as the only charity rescuing animals and investigating cruelty.
£6 could help pay to feed a dog for a day in our care
£10 could help pay towards bandages for a cat or dog
£15 could help pay for a cat or dog's clinical exam
£20 could help pay towards a bird catching kit
£30 could help pay for a life jacket for an inspector
£100 could help pay towards water rescue equipment
£500 could kit out a 4x4 inspector van
Donate to the Cancel Out Cruelty campaign and help us continue to rescue animals in need.
You can also help Cancel Out Cruelty by volunteering for us, becoming a campaigner to help us change the law for animals for the better, by becoming a fundraiser for the RSPCA, by learning more about animals through our Compassionate Families programme, buying a Cancel Out Cruelty T-shirt and showing it off on social media, or by pledging to help animals in other ways, such as learning more about your pets' needs, or learning how to help wildlife.
---