Kittens found huddled together in box after being dumped in bushes
Four kittens were found huddled together after being abandoned in a box in South Yorkshire.
A member of the public found the kittens dumped in some bushes off the High Street in Doncaster on Monday 16 November and took them home before calling us.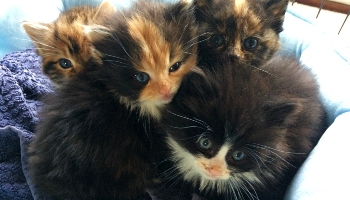 Our spokesperson said:
"The kittens - one black and white and three tortoiseshell - had been crammed inside an Amazon Prime box and tossed into some bushes. These little ones were very lucky to have been found before getting too cold in this wintry weather.
"The woman was concerned as the kittens were so little and one seemed particularly lethargic."
Luckily, our officer Graeme Petty was able to collect the kittens before his colleague, Ben Cottle-Shaw took them to our Barnsley and District branch nearby where they were given check-ups and, thankfully, clean bills of health.
Braced for toughest winter ever
It's believed the kittens, all female, are aged around six weeks. They're a little underweight so are being cared for by a fosterer and are said to be doing well and starting to come out of their shells and begin to play. They'll remain with us until they're old enough to begin their search for new homes.
A spokesperson added:
"Unfortunately, these kittens are just the tip of the iceberg. We're bracing for the toughest Christmas yet as the financial strain from the Coronavirus pandemic impacts families across the country.
"We're extremely concerned that as people lose their jobs and are hit with higher costs due to the pandemic, that more pets could become neglected or be abandoned, like these little ones, as families struggle to cope. That's why we're appealing to the public to Join the Christmas Rescue and help us help the animals who need us this winter."
---