Kitten breeders jailed after selling sick and dying kittens online
A man and woman from Bexleyheath have received jail sentences after they were found guilty of animal welfare and fraud offences for selling sick kittens online. Both were sentenced at Woolwich Crown Court on Friday (5 May), after they pleaded guilty in a case brought by the RSPCA, with support from London Borough of Bexley Trading Standards.
They pleaded guilty to one offence of conspiracy to commit fraud by false representation, and two offences under the Animal Welfare Act 2006. Their crimes included failing to provide veterinary treatment in respect of intestinal disease and cat flu; selling the animals in an unfit state and failing to provide veterinary treatment in respect of intestinal disease and resultant diarrhoea.
Harry Angell was given an immediate custodial sentence of 40 months, and Amy Byrne was given an immediate custodial sentence of 44 months. Both were disqualified for life from owning all animals, with no appeal for 10 years. As part of the sentencing, the judge imposed a deprivation order on the remaining animals under the care of Byrne and Angell.
The subsequent investigation into the sellers of the kittens, by our Inspectors, Kirsten Ormerod and Vikki Dawe, revealed 175 expired and current adverts on a number of sites including Gumtree, Pets 4 Homes and FreeAds. The sellers used at least 33 different names including stealing the ID of one of the buyers in an attempt to sell further kittens. Several different telephone numbers were also used. The sellers either delivered the kitten or the buyer collected the kitten from a common address which led to the investigation into Byrne and Angell.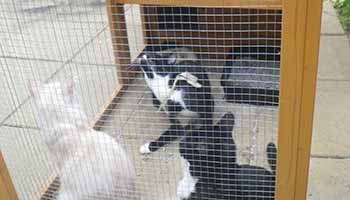 In many cases, Byrne and Angell claimed in adverts the kittens were regularly health checked, treated for fleas and worms, had been microchipped and would be sold with official paperwork. This paperwork either was never given or the buyer was given fraudulent paperwork. Byrne claimed frequently in both adverts and to buyers directly that she was a veterinary nurse which was proven to be untrue during the course of the RSPCA investigation. On a number of occasions as well as being poorly, kittens were also sold of the wrong breed, gender or age.
"Prices paid ranged between just £50 to in excess of £1,500, paid either in cash or by bank transfer for the kittens who were in poor condition and some of whom either died shortly after purchase or had to be put to sleep due to their poor condition. Others required extensive veterinary care. When buyers attempted to make contact with Byrne and Angell they were often ignored, blocked or told there was nothing wrong with the kitten they had been sold.
In August 2021, Inspector Ormerod and her colleague Inspector Dawe first attended the property of Byrne and Angell along with a vet, police officers and officers from Trading Standards. They found a number of young kittens with watery diarrhoea, dirty bottoms, legs and tails. Cats were living in hutches outside the property in the garden.
The visiting vet who attended on behalf of the RSPCA examined every animal at the property, and certified six young kittens were suffering due to their poor body condition and evidence of diarrhoea. Police placed these animals into our care and Inspector Ormerod issued warning notices regarding the remaining animals.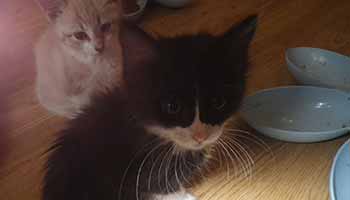 The six kittens removed from the property were taken to a local RSPCA animal centre where they received ongoing veterinary treatment. One kitten sadly died due to their condition. A post mortem found the kitten was malnourished.
Both Angell and Byrne tried to disrupt the investigation by hiding a phone that was later recovered and starting a factory reset on another handset.
Five mobile phones seized as part of the investigation revealed how the couple managed the selling of kittens online.
RSPCA Inspector Kirsten Ormerod said after sentencing: "This conclusion of this welfare case is the result of many months of work piecing together the operation that Byrne and Angell were carrying out from their home in Bexleyheath. I am incredibly grateful to the brave witnesses who helped us build this case. Welcoming a pet into their homes should have been a positive experience, but for many of them it resulted in large vet bills to try and save their brand new, poorly kitten, and for some, having them die within hours before their eyes - which will have been a devastating experience.
"We also thank the Metropolitan Police and London Borough of Bexley Council for their vital role in this investigation."
Kitten breeding specifically isn't formally regulated. However, the UK Government states that whilst you do not need a licence to sell a small number of offspring of pets that you've bred, for example as a hobby, if you do this often or with many animals then you may be classed as a business and may need a licence. You still need a licence if your business is based at home or you sell animals online, and you cannot sell kittens if you have not bred them yourself.
Kirsten added after sentencing: "This case shows why it is so important that anyone wanting to welcome a new kitten into their life needs to be careful when choosing him or her.
"There are many unsuitable breeders out there who can fool people into thinking the animals are healthy and are a one-off litter from a much loved pet, but often this is far from the truth. It is vital that new owners take the time to make sure their new pet has not come from one of them. Otherwise they may end up with all kinds of health and behavioural issues down the line.
"Better still, we would always encourage prospective pet owners to think about adopting one of the many cats in our rescue centres, who so desperately need and deserve a new home."
Read more for information about choosing a kitten.
To help the RSPCA continue rescuing, rehabilitating and rehoming animals in desperate need of care please donate online or call our donation line on 0300 123 8181.
---