Kitten abandoned in McDonald's toilet named Nugget
A kitten was abandoned in the toilet of a McDonald's restaurant in London with his tail missing, believed to have been 'cut off'.
The three-month-old tabby was found by the cleaner at South Harrow McDonald's on the morning of Halloween (Sunday 31 October) in the toilets of the fast-food restaurant.
Animal rescue officer Jade Guthrie, who went to collect the kitten and took him to our Finsbury Park Hospital, said: "Poor Nugget, as we've called him, was found hiding behind one of the toilets in McDonald's. He was wet, bedraggled and really frightened so we fear he may have been dumped in the toilet water. It's a really weird scenario.
"Staff were really worried about the tiny kitten so they called us and rushed him to a local veterinary hospital and we collected him from there. He's now at our hospital in north London where he's getting lots of TLC from our vets and nurses.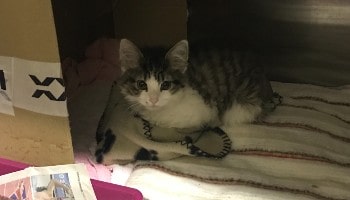 "Poor Nugget's tail is completely missing and he's been left with just a stump. We fear his tail may have been cut off deliberately as vets found two clear marks on the base where it looks like someone has tried and failed to remove it, before removing it on a second attempt. The McDonald's staff searched for Nugget's tail but they couldn¿t find it.
"Our vets don't believe that his tail has come off in an accident - such as getting it stuck somewhere - as it's been removed so high up. It's all very strange and it's concerning to think that poor Nugget may have been through unimaginable pain."
The restaurant manager checked the CCTV but couldn't see anything suspicious or obvious.
Jade added:
Nugget is so tiny it would be easy to smuggle him into the toilets without being seen; someone may have hidden him in their pocket or under their coat.
We're now investigating what happened to Nugget and are asking anyone with information to call our appeal line on 0300 123 8018.
'Cheeky chappy' Nugget will soon be looking for a new home
Jade added: Nugget is adorable and is such a cheeky chappy. Everyone at the hospital has fallen in love with him; all he wants is a cuddle!"
Nugget underwent surgery on Wednesday 3 November to remove what was left of his tail and clean up the wound.
Emma Yelland, from Finsbury Park Hospital, said: "Nugget has recovered well from surgery and will remain with us for monitoring. We hope he'll be able to go off to one of our rehoming centres to find a new home soon."
A spokesperson for McDonald's said: "On 31 October our team found a cat in the toilets of our restaurant in South Harrow. The cat was clearly distressed and our business manager and his wife acted fast to get him to a vets.
"We'd like to thank Jatin and his wife, Melissa, for their kindness in going above and beyond to help Nugget. We're supporting the RSPCA with their investigation and we'd urge anyone with any information about Nugget to come forward."