Influx of rabbits and small pets
We're seeing an influx of rabbits and other small pets coming into our care as their owners can no longer care for them.
In the last three months (January 2021 to March 2021) we've received reports about 150 abandoned rabbits, 78 dumped guinea pigs and 51 abandoned hamsters.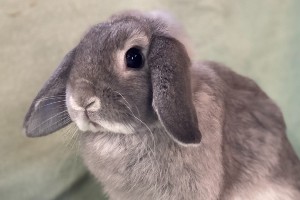 There were also 2,528 abandoned rabbits and other small pets reported to our cruelty line since the lockdown began in March 2020.
With a huge surge in interest for pet ownership during the lockdown, we're concerned that some people may be buying pets on impulse. There's typically a spike in families wanting to buy or rehome rabbits over Easter so we're urging owners to please do their research before committing to a pet.
Dr Jane Tyson, our rabbit and rodent expert, said:
This Easter and beyond we are urging people not to buy a rabbit, or any pet, on an impulse as sadly many people may not realise what is involved in caring for them.
Small doesn't necessarily mean easy and we're already beginning to see the impact of the lockdown with owners struggling to care for their small pets. We'd always ask prospective owners to please do their research and make sure they have the time, money and resources to be able to care for that animal for the rest of their lives.
Searches for rabbits and guinea pigs have increased
Google searches for 'Rabbits for sale' rose from 23,000 in April 2019 to 40,000 in April 2020. There was also a 68% increase in visitors to the RSPCA's Find a Pet website for rehoming rabbits (23 March -30 Aug 2019 compared to the same period in 2020). Searches for 'Guinea Pigs for sale' rose by 233% from January to July 2020 and 'Hamsters for sale' saw a 200% increase in July 2020 compared to the previous year.
The RSPCA Danaher branch in Essex is caring for 45 small animals which have arrived in their care since the start of the month alone including rabbits, guinea pigs, mice, gerbils, rats, hamsters and chinchillas. Many of these came into the charity's care because they were abandoned or as their owners could no longer care for them.
Craig Horsler, animal care manager at the RSPCA Danaher Animal Home, said:
We're not sure why we've seen a bit of an influx of rabbits and small furries coming into our care over the last month or so. We do find that these pets can often be bought as a 'starter pet' for children and particularly with there being such a demand for pets in lockdown, we are concerned that some families may have bought them on impulse and have found that now the kids have gone back to school perhaps the novelty has worn off or they're struggling to cope.
Owners struggling to cope
Riana, a young gerbil, was found abandoned in Essex and came into our care on 2 March.
Three rabbits Carrot, Rosey and Hopsey and three guinea pigs Stella, Biscuit and Oreo also came into our care this month from the same household as their owner was struggling to care for them.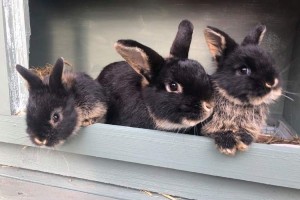 Our Walsall branch in the West Midlands has also seen a similar picture, particularly with rabbits coming into their care. Two young sisters Betty and Hettie came into the branch's care last week as their owners could no longer cope. They're so underweight one of the female buns can barely hold her own weight.
Our Altrincham Cheshire branch is currently caring for a hamster called Teddy after their owner could no longer cope just a few months after buying him. They're also dealing with an increase in small furries coming into their care, including Gin and Tonic who were mis-sexed as two females until they had babies and Merlin who was given up because the child had 'become bored with him'.
Jane added:
It's so sad that many of our centres and branches are seeing small pets being abandoned or given up.
There are also concerns that as vets have understandably prioritised emergencies during the pandemic that some rabbits have not been neutered. Rabbits are a social species and most prefer to live with another friendly rabbit; neutering is crucial so that this can happen. When rabbits reach maturity, same-sex pairs can become aggressive and fall out with their siblings or bunny buddies and have therefore been given up by their owners, whilst a male-female pairing can quickly lead to pregnancy and lots more bunnies if they are not neutered.
We know that there has been a real increase in the number of people getting pets during the lockdown and it's lovely to see so many people offering fantastic homes to rescue pets but sadly we are concerned that pets could be bought without owners thinking about if they can care for them in the long-term. We would always urge people to do their research before buying a pet, no matter how big or small!
Rehoming of rabbits spikes in Easter
Every spring we see a spike in rabbit rehoming from our centres and branches. We don't have information as to why this could be, however, it may be due to some retailers stopping the sale of rabbits over the Easter period leading to a rise in people seeking out rescue rabbits instead.
There are some concerns around retailers selling rabbits at Easter as this could lead to impulse buying. However, as an animal welfare charity which rescues and rehomes thousands of animals every year, we carry out thorough checks on all potential adopters to ensure they can provide for the needs of the animal(s) they wish to rehome - and this continues no matter the time of year.
Take a look at the rescued animals available for adoption.
---