RSPCA reports huge influx of rabbits as charity sees intake rise by a THIRD in a year
RSPCA animal centres and branches across the country report being overwhelmed with unwanted rabbits. The RSPCA has today revealed its centres across the country are being 'overwhelmed' with unwanted rabbits - with no one coming forward to offer them new homes.
We're seeing an increase in rabbits coming into care but a decrease in adopters
In 2020, 672 rabbits came into the RSPCA's care, and during 2021, 859 were taken in by the RSPCA - an increase of 28 per cent.
By mid-February this year, 88 rabbits have already been taken in across the country.
In 2020, despite the country being in lockdown, there were 4,508 incidents relating to rabbits reported; this rose to 4,741 in 2021.
The number of rabbits abandoned also increased during this time with 1,242 reported as abandoned in 2020 and 1,559 abandoned in 2021.
Almost 1,000 more rabbits were classed by the charity as 'neglected' in 2021 - 5,451 - compared with 4,544 in 2020.
Sadly, this is also coupled with a decrease in the number of people wanting to rehome rabbits. In 2018, 2,772 were rehomed, in 2019 - 2,569 and 2020, only 2,080 found new homes.
It's difficult to know why people want to give up their animals as often they don't give a reason but the RSPCA has done research into Google searches to try to piece together why this may be happening.
Google searches for 'Rabbits for sale' rose from 23,000 in April 2019 to 40,000 in April 2020. There was also a 68% increase in visitors to the RSPCA's Find a Pet website for rehoming rabbits (23 March-30 Aug 2019 compared to the same period in 2020) - so it may be these new owners are now coming out of lockdown and going back to normal life and have realised they cannot commit to their pets. RSPCA rabbit welfare expert Dr Jane Tyson said:
Despite rabbits often being perceived as an ideal 'starter pet', they actually have very complex needs and are one of the most neglected pets in Britain. They also have long life spans of around 8-12 years so are a big commitment for a family.
It means sadly the RSPCA deals with many calls about bunnies where they have been neglected or abandoned each year.
When rabbits are bought on impulse, an owner may not realise how complex they are to care for and what a commitment caring for rabbits can be.
Whilst they can be hugely rewarding pets full of personality, they also need lots of stimulation and - crucially - space to ensure their welfare needs are being met.
For anyone who has done their research and is certain they can provide the time, space, money and care it takes to look after a pair of rabbits then please consider adopting one of the many rescue rabbits in need of a home instead of buying one.
The RSPCA is not the only charity stretched to the limit with rabbits
Vanessa Cunningham, Director of Care & Veterinary Services at Wood Green, The Animals Charity, said:
¿Rabbits have been the most neglected pet species in the UK for many years, which has only been exacerbated by the overwhelming volume of rabbits that were bred and purchased during the pandemic. Many of these owners have now realised how much space and hard work rabbits require, or things have gotten out of control if they inadvertently brought home an un-neutered male and female pair who began breeding.
As a result, we are seeing more calls for help than ever before ¿ in the last year, there has been a 28% increase in rabbits coming into Wood Green's care and an 83% increase in rabbits added to our waiting list.
On top of this, there is always a drop in the number of people interested in rehoming rabbits during the colder months, so our resources are now being stretched to the limit. We've also been contacted by numerous other charities who are at full capacity with rabbits and can't cope, which has never happened before. We're now calling on anyone who thinks they could offer a good home to a pair of rabbits to come forward.
Our team can provide full support and guidance at every step of the way. For anyone struggling with rabbits in the home, we're here to help with that too ¿ we can offer free advice about any aspect of rabbit ownership, as well as neutering vouchers to stop the cycle of unwanted breeding.
Rabbits currently needing homes across the country:
Storm and Betty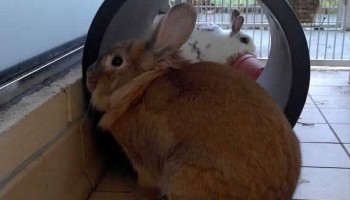 Storm and Betty are a pair of bonded rabbits who have been looking for a home at Great Ayton Animal Centre near Middlesbrough for two months.
Manager Debbie Fowle has seen a large increase in rabbits being admitted to the centre, a picture repeated across the country. Debbie said:

¿All our rabbit pods are full with more waiting to come in from the RSPCA inspectorate. Sadly there is a lot of misunderstanding around rabbits, particularly with the amount of space they need, a hutch just isn't sufficient, and how complex they are to look after. Although they are hugely rewarding pets when owners get it right. We would urge anyone local thinking of adopting a rabbit to get in touch with us.
Paprika and McCarthy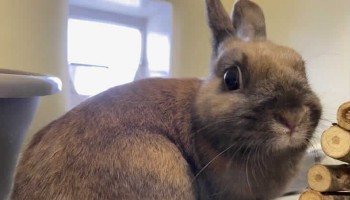 Leybourne Animal Centre in Kent is also full to capacity with rabbits at the moment, including Paprika and McCarthy.
Three of their bonded pairs are classed as 'long stays' as there has been so little interest in rehoming them. Supervisor Sam Rogers said:
Most of the calls that we get - either from our inspectors or members of the public are about rabbits now. My colleagues across the country are saying the same thing, we are just overwhelmed with rabbits.
Sadly this is coupled with rabbit rehoming being almost non-existent at the moment, I just don't think people want to rehome them over the winter.
We would urge anyone who has done their research and thinks they can provide a long term loving home for a rabbit to please get in touch with us.
Ellie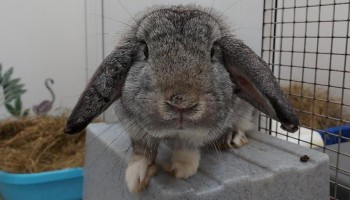 RSPCA Manchester and Salford branch are currently caring for 60 rabbits - twice as many as usual.
Ellie is one of their longer stay rabbits and would love a quiet home with a placid male rabbit for companionship. Branch manager Susie Hughes said:
We are seeing what seems to be the after-effects of pet buying during the pandemic.
We have double the amount of rabbits in our care as usual with more coming in all the time, coupled with a slow down in rehoming. In my experience abandoning pets stems from a lack of research and understanding of how much time and space rabbits need.
Animals are expensive to own too and we know we are in the middle of a cost of living crisis. We would urge anyone who does feel they can offer a loving home to a rabbit to please get in touch, all animals we rehome are neutered, chipped and vaccinated.
Squishy

Squishy is just one of the rabbits available for rehoming at the rehoming centre run by the Worcester and Mid Worcestershire branch of the RSPCA. He is one of eight rabbits at the centre - which has limited facilities for small animals - with a further 22 bunnies waiting to come in.
The RSPCA's Worcester branch is so concerned about rabbit welfare that it's launching an email advice service offering guidance and support to first-time owners - as well as more experienced keepers - regardless of whether they have adopted their rabbit from the RSPCA. The service can be accessed by visiting their website where you will also find a guide to caring for pet rabbits.
Worcester branch volunteer, Claire Wood, said:
We are seeing more and more rabbits coming into our care and we are braced for this situation to continue now that Covid restrictions are coming to an end. Rabbits are often seen as an easy, low-cost starter pet for young children and we think many may have been bought on impulse during the pandemic by people who may not realise how complex they are to look after.
We find lone male rabbits usually take the longest to rehome, whilst pairs tend to get chosen more quickly. But it can take us about eight to twelve weeks - sometimes longer - to find one of our rabbits a new home, so it's not a quick process, and we have a waiting list that seems to be getting longer and longer.
Wood Green: Tiddles and Buttercup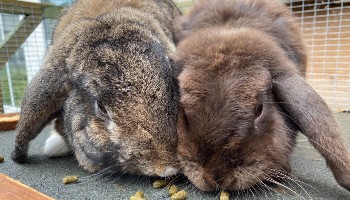 Meet Tiddles and Buttercup, who have been in Wood Green's care since September 2020. Their dream home is somewhere with plenty of space for them to hop around and explore. Tiddles is a large English lop so they're ideally looking for a Wendy house, or a large shed and run. This active pair of bunnies love hopping onto tables and munching on forage.
They're both quite timid around people and enjoy their alone time. But they will come over to you, especially if you have food to offer. Tiddles and Buttercup would benefit from living with a family who can help grow their confidence by spending time socialising with them while respecting their space.
To help the RSPCA continue rescuing, rehabilitating and rehoming animals in desperate need of care please donate online or call our donation line on 0300 123 8181.
---