Indefinite ban on keeping animals for Yorkshire woman who let her pets starve to death
A woman who let her two cats starve to death over a prolonged period has been banned from keeping all animals indefinitely.
One of the cats, whose body was discovered in a sink in the bathroom of a house in Carr Street, Bradford, was so hungry that traces of plastic were found in his stomach. Another was found dead wedged between a set of drawers and a wall under the attic stairs.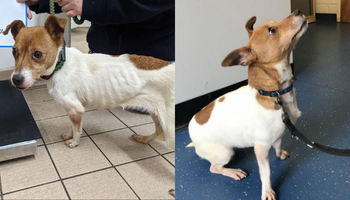 The sole survivor, a severely emaciated Jack Russell dog called Edie, had been confined in the kitchen without anything to eat or drink and had chewed her way through food and drink cartons.
Bernadette Gallivan (D.o.B 23/01/76), of Saxton Avenue, Bradford, has now been banned for keeping all animals indefinitely after she was sentenced at Leeds Magistrates Court on Friday (24 February) following a prosecution by the RSPCA.
The court heard how she'd moved out of the property in Carr Street to live with a friend in Manchester Road - about half a mile away - but hadn't returned to the house to feed her pets, despite the fact that she also worked in a nearby cafe.
After concerns were raised about the welfare of animals at Carr Street, a visit was made by RSPCA inspector Taylor on January 19 2022. There was no answer, and seals were placed over the property's front door and tape on the lock. The following day the officer returned and posted cat food through the letterbox, but the seals were still intact and police and a locksmith were then contacted to help gain entry to the property on January 21.
Edie was found shut in a kitchen area, standing on clutter, household items, kitchen appliances and rubbish. The entire floor was strewn with chewed plastic, glass, Tupperware, old takeaway cartons and various bowls, none of which contained any food or water.
Inspector Taylor told the court:
The dog was very meek, and timid and appeared petrified. The kitchen sides were full of cups, old spoiled milk, eggs shells and pots. She ran out into the front room and started eating the cat food I had posted the previous day. I put her on a lead and walked her to my van, she felt light as a feather.
The rest of the house was littered with plastic bottles, mounds of rubbish, clothes, faeces, empty cans and heavily soiled litter trays. There was a strong smell of ammonia throughout and some of the rooms were so cluttered they were inaccessible.
Magistrates heard how an adult white and tabby cat called Bentley was found curled up dead in the sink of the upstairs bathroom. The barely recognisable body of another cat, a black and white male called Mischief, was discovered upside down between a set of wooden drawers and a wall under the attic stairs.
Gallivan was subsequently interviewed by inspector Taylor and Edie was signed over into the charity's care.
In his evidence to the court, a vet described how the Jack Russell's ribs, spine and pelvic bones were clearly visible with muscle wastage noticeable on a number of locations around her body. She weighed 3.9 kilograms and was given a body condition score of only one out of nine. Just over six weeks later - in the care of the RSPCA's Halifax, Huddersfield Bradford and District branch - her weight had increased to 6.8kg.
The vet said that investigations via blood and faeces samples didn't reveal any significant underlying diseases that could have accounted for the animals' poor appetite or increased metabolic demand.
Bentley was found to have plastic in his stomach. Animals that are intensely hungry with no access to food may ingest non-nutritive materials in an attempt to satisfy their hunger. This signifies they are hungry and have an appetite.
The post-mortem findings relating to both cats were comparable in their features associated with emaciation and when also considering the circumstances within which these animals were found, starvation was highly likely the cause of death of both of them.
Edie gained a significant amount of weight when in RSPCA care by the provision of a suitable diet and it is, therefore, reasonable to conclude that on 21 January 2022, these animals were underweight as a consequence of not having access to a suitable diet for a prolonged period.
In my opinion, all three of these animals showed an extreme absence of fat and an extreme level of muscular wastage that indicated they had been subjected to a prolonged period of starvation.
Suffering will have been experienced by these animals via mechanisms of intense hunger, weakness, fatigue, general malaise and poor exercise tolerance for a period of at least two weeks, probably longer.
Gallivan, who had pleaded guilty to four animal welfare offences at an earlier hearing at Bradford Magistrates Court on 20 December, was also given a 12-month community order, with a requirement to carry out 20 RAR days, and ordered to pay costs of £100 and a victim surcharge of £95. She will not be able to contest her disqualification for a period of ten years.
The court heard she had significant personal health issues and had not been coping at the time of the offences.
Speaking after the conclusion of the case, inspector Taylor said:
When I opened the bathroom door and saw Bentley's emaciated body curled up in the sink it was a deeply saddening and distressing sight. Both cats had starved to death and one had even eaten plastic to try and stay alive.
Luckily Edie was found just in time, she's recovered well and is now living in a lovely new home. One of the most harrowing things about this investigation was that Gallivan was staying within walking distance the whole time, but she chose not to go back to her property, allowing all of her pets to suffer.