Images show transformation of dog left with horrific ear cropping injuries
A young dog who was left with mutilated ears after they were illegally cropped is finally ready to start the search for a loving new home after nearly 15 months of rehabilitation in the care of the RSPCA.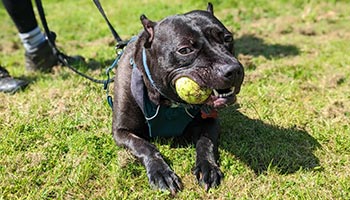 Riga, a bull-type dog, was left to suffer for several days after his owner allowed the illegal practice to be carried out and then failed to seek veterinary care for the injuries the dog sustained.
He was seized from a property in the Greater Manchester area in April 2021 and taken into RSPCA care before being moved to the charity's Felledge Animal Centre in County Durham last autumn, where he's been receiving ongoing treatment and care ever since.
Staff at the centre say Riga has made great progress and is a happy and loving dog, despite the ordeal he's been through. Luka Atkinson, deputy centre manager, said: "He's a really friendly boy and seems to be completely unaffected by the trauma and suffering he endured at such an early age.
"Even though he's missing large parts of both ears, it doesn't impede him and he's got quite an infectious zest for life. He's excellent with other dogs too and has made friends with several canine companions since he's been here.
"Riga now weighs nearly 30kg (66 pounds), so ideally we're looking for a home with people who've had experience of medium to large size dogs before and are familiar with bully breeds. He could possibly live with another dog, subject to sensible introductions, and he would also be okay to live with secondary age children.
"We'd love to hear from anyone who might be interested in offering this wonderful boy a new home."
The vet who examined Riga at the time said the illegal procedure would have caused him pain and irritation for at least five days, possibly longer, and that in the absence of any evidence indicating why he had needed his ears cropped for medical reasons, it could be assumed it had been done for cosmetic reasons.
The RSPCA is highlighting Riga's story as part of the charity's Mutilated For Money campaign, which highlights the horrific cruelty dogs go through during the barbaric procedure to crop their ears, in many cases, solely for the aim of making the dog look 'tough'.
Whilst ear cropping is an illegal practice in the UK, it still happens. Shockingly, it isn't illegal to import a dog with cropped ears into the country - making it harder to prove illegal cropping at home and leaving a loophole for owners to source dogs with cropped ears from abroad.
Last year, the RSPCA's emergency line received more than one report every single day about ear cropped dogs - with 391 incidents reported. From 2020 to 2022, 1,066 reports had been logged by the charity.
The UK Government had pledged to ban the import of dogs with cropped ears as part of its Kept Animals Bill, a move which was also set to pave the way for Welsh Government action. But sadly, the UK Government scrapped the bill last month, prompting the RSPCA to urge Ministers to find a viable alternative plan to ban it as soon as possible.
The RSPCA has joined forces with Welsh charity Hope Rescue on the campaign which is aimed at reminding the public about the laws on cropped dogs and the welfare issues the procedure can cause pets.
Riga's owner was jailed for 23 weeks and given a 15-year ban on keeping animals after admitting allowing Riga's ears to be illegally cropped.
RSPCA inspector Emma Dingley, who investigated the case, said: "It's wonderful to see Riga looking so happy and ready to start this next phase of his life, and that's testament to the many months of care and rehabilitation he's received by the staff at Felledge.
"Ear cropping is a horrific practice which has absolutely no benefits for dogs like Riga and can cause them lifelong health, behavioural and social problems. It's done purely for cosmetic purposes and sadly can lead to puppies being sold for much more money. We'd urge the public and anyone looking to buy a puppy to remember that this is an illegal procedure which has hugely negative impacts for the dogs themselves."
To help the RSPCA continue rescuing, rehabilitating and rehoming animals in desperate need of care please donate online or call our donation line on 0300 123 8181.
---