Hundreds of air gun attacks reported to RSPCA despite Covid lockdowns
An "alarming" number of reports were received by the RSPCA about animals being targeted by air weapons and rifles over the last 18 months - despite lockdown and Covid-19 restrictions keeping people at home for long periods.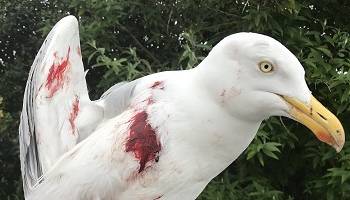 Since the beginning of 2020, 371 incidents have been reported to the RSPCA where the caller believed an air gun or rifle had been used to target an animal.
However, it is believed the total number of incidents will be substantially higher - as often a bullet or pellet is discovered after the RSPCA have intervened when an animal has been found in distress.
The bombshell figures are revealed as part of the RSPCA's summer 'Cancel Out Cruelty' campaign, which highlights the deliberate cruelty that too many animals continue to be subjected to across England and Wales.
Findings have prompted the RSPCA to renew calls for greater regulation linked to the use of air guns - including better education for owners and a thorough explanation of the law.
Household pets, particularly cats, are often the victim of attacks - with the RSPCA saying it "beggars belief" that, as communities rallied around one another during the pandemic, many people took it upon themselves to instead spend time targeting animals with air weapons.
The animal welfare charity has revealed the top five counties across England and Wales for incidents linked to air weapons - with Kent (24), Merseyside (22) and West Yorkshire (19) topping the grim list.
Nottinghamshire (17) and Greater London (16) were also hotbeds of air gun reports.
Incidents dealt with by the charity's frontline officers since the beginning of 2020 include:
A Pontefract couple who spent an hour cutting at thick bushes to reach their crying cat Gordon - who sadly had been shot in the neck with an airgun. Thankfully, Gordon survived after surgery.
Eight-month-old kitten Cosmo, who was left "lucky to be alive" after being found shot in Barry just days before Christmas Day.
A female tabby cat named Ethel who was shot in her abdomen in London last September, leaving the pellet embedded in her intestines. She later died following the shooting. In June, a man was given a suspended jail term and banned from keeping animals for the attack.
In Braintree, in July, a polecat who had to be put to sleep after being found by a member of the public with a pellet lodged in his skull.
A gull who had to be put to sleep after being left with a badly injured and blood-splattered wing after a shooting in Rhyl in June. X-rays revealed the gull had been shot by three air gun pellets.
However, the problem is an historic one - and older incidents dealt with by the charity include:
An entire family of swans left wiped out in the Benenden area of Kent, with X-rays of two of the birds revealing they had been peppered with pellets.
Black and white mog Romeo found by his owners in Croxteth after managing to make his way home despite being shot in the neck. Romeo was whimpering and the pellet could clearly be seen lodged into his skin. Thankfully, this was removed, and with veterinary advice, Romeo soon improved.
A duck being raced for veterinary treatment after being found shot in the leg following an air gun attack in Newark. Fortunately, the duck - nicknamed Jemima Puddle Duck - survived the ordeal.
Steve Bennett, the RSPCA's deputy chief officer of the inspectorate, said:
Since the beginning of 2020, we've received 371 alarming reports to our emergency line where the caller had reason to believe an animal had been targeted by an air weapon or rifle.
However, the number is likely to be even higher than this - as often X-rays sadly reveal pellet wounds or bullets once our officers get involved.
The last 18 months have been so tough for everyone, and it really beggars belief that - while communities rallied around one another in the face of Covid-19 - anyone thought it acceptable to spend their time taking pot shots at innocent animals. The fact we have continued to get hundreds of reports of animals being shot during lockdown restrictions is both startling and depressing.
Pets are often the victim - especially cats; while wildlife are also targets of these callous acts. Animals can suffer terribly from the pain and injuries caused by air weapons, and sadly many lose their life as a consequence of being shot.
As we bid to cancel out cruelty, the RSPCA continues to call for stricter regulations around owning an airgun in both England and Wales. Better education, basic safety training for owners and a thorough explanation of the law - including our legal obligations towards animals - could help protect countless animals from these horrible attacks in the future.
The RSPCA gets around 84,000 calls to its cruelty line every month and around 1,500 of those are about intentional cruelty. But the charity sees a rise in the summer by around 400 calls, on average, per month, which equates to 47 calls every day or nearly two every hour.
Dedicated RSPCA rescue teams need support to stay on the frontline as the only charity rescuing animals and investigating cruelty:
£6 could help pay to feed a dog for a day in our care;
£10 could help pay towards bandages for a cat or dog;
£15 could help pay for a cat or dog's clinical exam.
To donate to the Cancel Out Cruelty campaign and help the RSPCA continue to rescue animals in need, visit the 'Stop Cruelty' webpage.