How wildlife friendly are you?
UK wildlife is under threat, but we all have the power to change that, and a new online quiz from the RSPCA makes it easy for people to find out how wildlife friendly their outdoor space is.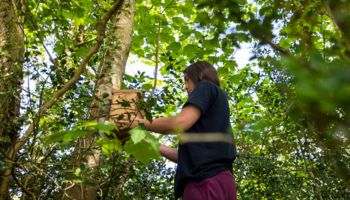 We all know money doesn't grow on trees, but that doesn't mean we can't put down roots to make our gardens irresistible to wildlife, and you might be surprised by what animals are already living in your garden.
The brand new interactive tool from the RSPCA helps people to see how wildlife friendly their outdoor space currently is.
But how wildlife friendly are you?
Here are eight ways to make a difference to wildlife that are so simple, they can be done within a lunch break.
Pick up those bird feeders that blew down in the wind, and top up with suitable seeds and grains like oats, sunflower seeds, nyjer seeds and millet. Some plain leftovers such as cooked pasta and rice, or boiled potatoes are an alternative.
Invite a friend, family member or colleague over and build a hedgehog house or a nesting box - it's straightforward and fun and provides a habitat for small mammals and birds.
Explore the RSPCA's online advice to find out how to attract wildlife to your garden and learn how to help wild animals at different times of the year.
Plant native wildflowers to encourage pollinators bees and butterflies into your garden. Foxglove, birdsfoot trefoil and musk mallow are great for attracting pollinators. Why not arrange a 'seed swap' in your local community?
Potter around the space collecting twigs, dead leaves and broken branches, and use these to assemble a dead hedge. This will attract small mammals like hedgehogs and birds, as well as insects, which will provide a natural food source for birds and other wildlife.
Leave out a wildlife feast that you can then watch from the window in the afternoon and see who comes to eat! Badgers and foxes love peanuts, cooked meat or perhaps some cheese. Only leave enough to give them a small treat, not enough to replace their natural diet.
If you have a pond in your garden, find a piece of wood or a thick branch to create a slope or ramp coming from it to ensure young frogs, toads and mammals can get out easily.
If you have a fire pit or a bonfire pile, make sure you check inside and underneath for hedgehogs and other wildlife before lighting it. If you can, build it immediately prior to lighting it to make sure it is clear.
The RSPCA is empowering people to become Wildlife Friends and help the charity save thousands of wild animals in need.
The call comes ahead of The RSPCA Garden at Chelsea Flower Show, where the charity will be showcasing inspiring Wildlife friendly gardening ideas, as well as celebrating the benefits of being immersed in nature.
Elements of the garden are inspired by the frontline work of RSPCA teams and volunteers rescuing, rehabilitating and releasing thousands of wild animals and birds every year, and the charity hopes the garden will inspire people to encourage wildlife into their gardens and take action to protect them from harm.
Partnering with designer Martyn Wilson of Wilson Associates Garden Design, the charity's garden will also celebrate the RSPCA's forthcoming 200th anniversary next year (2024).
As part of the project which is being generously funded by Project Giving Back, the garden will be relocated at the end of the event to RSPCA Stapeley Grange, one of the charity's wildlife rehabilitation and education centres, for visitors to enjoy the living legacy for years to come.
It will continue to provide sanctuary for wildlife, but also for visitors - including young people, families and vulnerable adults, who already visit the centre for support with emotional well-being and resilience. The space will deliver impactful experiences and bring essential animal welfare education to communities that have fewer opportunities to connect with their environment.
---