Our hospitals care for more than 22,000 animals during 2020 pandemic
Frontline staff across our hospitals and clinics have worked tirelessly treating those animals most in need throughout the coronavirus pandemic.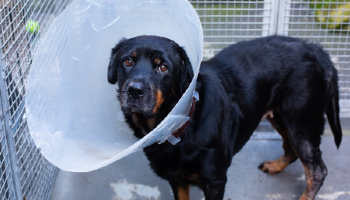 Several thousand operations were carried out by our dedicated hospital staff despite difficult circumstances as well as 2,495 animals neutered, 6,261 vaccinated and 2,027 microchipped, once the rules were relaxed to allow these procedures.
In addition, 8,665 animals were seen as inpatients and 13,340 as outpatients in our hospitals.
Animals that passed through the doors of our hospitals last year included: Parsnip the pug who was abandoned in Leytonstone in December, Xena the cat who needed a leg amputation after becoming caught in a gin trap in Rochdale in December and a fox with her head in a sweet jar found in Northfield.
Our staff have remained dedicated to animals throughout the coronavirus pandemic
Our chief vet, Caroline Allen, said:
2020 was a busy and challenging year for the veterinary profession as a whole and the RSPCA was no exception.
I'm very proud of the work our fantastic teams have achieved and the procedures carried out by our hardworking hospitals and centres. Our staff have remained dedicated to animals throughout the coronavirus pandemic.
From amputating a hedgehog's toe to treating abandoned and neglected dogs, the RSPCA has been on the frontline dealing with animal emergencies every day.
We're also very grateful to all the vets in private practice across the country who have supported our Inspectorate and animal centres and provided veterinary care for RSPCA animals during this very difficult period.
Ben Faulkner, hospital manager at our Greater Manchester Animal Hospital, said:
Whether it's a cat involved in a road traffic collision or a starving, abused dog, we have continued to treat those animals who have needed us from the Greater Manchester area during 2020.
I'm very proud to work with such a great team at the hospital and we're all looking forward to what will hopefully be a brighter 2021.
Join the Winter Rescue
This winter, we expect to rescue thousands of animals from neglect, cruelty and suffering. Already this Christmas we received more than 44,000 calls to our cruelty line but the calls to our rescue line are not stopping so neither will we. To help our rescue teams continue to reach the animals who desperately need us this winter, donate online and Join the Winter Rescue #JoinTheRescue