He got sole: RSPCA inspector one run away from finishing 590-mile South Wales challenge
An RSPCA inspector is set to complete the final leg of an epic 590-mile, six-month run around the South Wales region.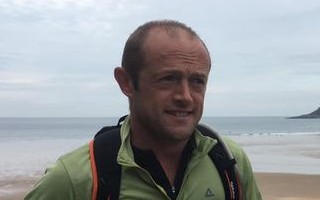 Dave Milborrow has been swapping his inspectorate uniform for his running kit to raise vital funds for the animal welfare charity.
He is now just one run away from completing an entire lap of South Wales - a journey he started on 10 April at the RSPCA Cymru HQ in Tongwynlais in Cardiff.
He was motivated to take on the challenge after witnessing a "very difficult" winter in 2020 for Wales' wild animals, and wanted to raise money to support the charity's work with Wales' rich and varied wildlife.
The fundraising effort has posed massive logistical challenges - with Dave returning to his home in Crickhowell between runs, before heading back to where he most recently stopped to continue the journey.
Dave has already beaten his target by about four times the amount
More than £2,000 has already been raised by kind-hearted animal lovers - meaning Dave has comfortably beaten his initial £590 target; a pound for each mile of his proposed run. Supporters can donate via the JustGiving platform, with all money raised supporting the RSPCA.
The final leg of his journey on Saturday (September 25) will see Dave run from Barry in the Vale of Glamorgan, through Cardiff Bay and back to the RSPCA Cymru HQ in Cardiff at approximately 4.30pm - where his inspectorate colleagues will give him a rousing reception.
Over 168 days, David has documented his running efforts on his dedicated Facebook page - 'Dave's South Wales Circuit for RSPCA' - and has seen him start legs of his run in the likes of Monmouth, Hay-on-Wye, Kidwelly and Caswell Bay.
Why Dave decided to run for us
Ahead of the final run of the challenge, Dave said: "It has been an unbelievable six months - and it's been an incredible challenge; but my amazing supporters - who've helped me raise more than £2,000 already - have really kept me going.
"The RSPCA relies on donations to exist - and I have been bowled over by the generosity of the public in supporting my rather ambitious run around South Wales.
"It has all been about raising money for animals in need. Last year, I witnessed such a very difficult winter for Wales' wildlife. Rescuing, rehabilitating and releasing wild animals is quite an understated part of what we do - but is vital to the work of the RSPCA; with stricken wild birds, hedgehogs, foxes and other wild animals so often in need of our help.
"The run has been a big logistical challenge - as I have been starting off each run where I left off. So I've got to see some truly beautiful parts of South Wales; and I'll be completing the challenge on Saturday (September 25), running through Barry and Cardiff Bay, on my way to the RSPCA Cymru HQ in Tongwynlais at around 4.30pm."
Elaine Spence, the RSPCA's chief inspector for South Wales, added: "We couldn't be prouder of Dave. This immense run has been a huge undertaking - and has raised vital funds for the work we do every day helping animals in need. Every pound raised really does help.
"When he first told us his plan, we couldn't quite believe it. But he's absolutely nailed it - and now I can't wait to cheer Dave over the finish line after his 590-mile tour of beautiful South Wales."
Rescuing animals all year round
When Dave isn't running - his day job is of course being an inspector for the RSPCA. He's been on the frontline helping animals since 2014; and wild animals he has rescued recently include two daredevil badgers who were precariously stuck between metal steps and a wall on Pentre Lane above the Monmouthshire and Brecon Canal, in Cwmbran.
Anyone wishing to donate can do so via the JustGiving platform, and find out more information about the running challenge on the Facebook page.