We rescued a gull found caught in fishing wire dangling above lake
We were called to rescue a gull which had been caught up in a fishing line and left dangling above a lake in Liverpool on Tuesday.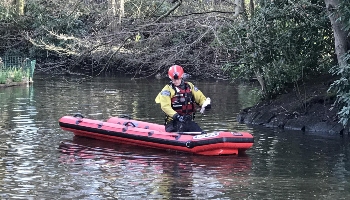 A sharp eyed member of the public had spotted the stricken bird hanging from a tree above a lake in the popular Sefton Park and called us for help.
Animal rescuers inspector Pamela Bird and animal rescue officer Steve Wickham rushed to the scene.
Pamela said:
"When I arrived I saw no sign of it until I looked closer at a stationary gull with nearly invisible fishing line coming from it. The poor thing was attached to an overhead branch.
"He was hanging around 10-15 metres away from the bank which meant ARO Steve Wickham had to rescue this poor bird by boat.
"We found that the poor gull not only had a lot of line wrapped around his body but he had the hook stuck well and truly into the underside of his wing too.
"It must've been really painful for him, so we removed the hook and took him straight to our Stapeley Grange Wildlife Centre where he is now receiving veterinary treatment and recovering well.
"We're really grateful to the member of the public who spotted the bird in such a precarious position. He was really difficult to spot so if they hadn't called us he would¿ve been left hanging there for a very long time and it is likely he would¿ve died."
Pamela added:
"Sadly injuries to wildlife caused by fishing litter is something we see all too often and we strongly urge those who enjoy fishing to be extra careful to ensure nothing is left behind. Most anglers are very responsible when disposing of their litter, but it only takes one careless person to endanger the life of an animal."
headinf2
We ask all those who enjoy fishing to join the Angling Trust's Take 5 campaign and make use of the Anglers National Line recycling scheme to dispose of their waste tackle and line.
Angling litter recycling points are now sited at our four wildlife centres at:
West Hatch in Taunton, Somerset
Stapeley Grange in Nantwich, Cheshire
East Winch near King's Lynn, Norfolk
Mallydams Wood in Hastings, East Sussex
You can also recycle the litter at hundreds of other sites throughout the UK.
If any member of the public sees discarded litter around then we would ask them to do their bit and pick it up to dispose of it properly, in a bin, and they may save an animal's life.
All sorts of fishing litter can cause problems:
line can wrap around necks causing deep wounds in flesh and cutting off the blood supply
hooks can pierce beaks, become embedded in skin or get caught in the bird's throat
weights can be swallowed causing internal injuries and blockages.
Here are some of our tips to help tackle the problem:
Taking unwanted fishing line home and cut it into pieces before putting in the bin
Being aware of surrounding trees - discarded line caught in foliage can entangle wildlife
Don't leave bait unattended - always remove from the hook and put it in a safe place
Use a bait box - this will reduce the chances of leaving behind an empty bait tin by mistake
Don't leave hooks, weights or other paraphernalia behind.
If you spot an animal in distress, please call our helpline on 0300 1234 999.
This winter, we expect to rescue thousands of animals from neglect, cruelty and suffering. Already at Christmas we received more than 44,000 calls to our cruelty line. To help our rescue teams continue to reach the animals who desperately need us this winter, donate online.
---