We're urging Government to keep promises on trade commission ahead of Australia deal
We've called on Government to keep its commitment to set up a Trade and Agriculture Commission to protect animal health and welfare and human health ahead of any Australia deal.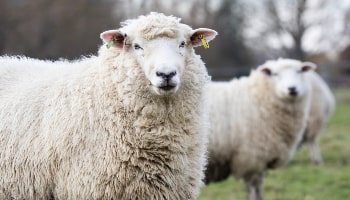 We're concerned that the Government appears to be pushing ahead with a free trade agreement with Australia, which could see lower standard imports flood our supermarket shelves, before the promised commission has been set up.
In an amendment made by the Government to the Trade Bill, the Government said they would set up the statutory and permanent TAC which would have a legal responsibility to scrutinise trade deals and any report from the commission would be laid at the same time or ahead of any Free Trade Agreements (FTAs) laid before parliament.
Chris Sherwood, our Chief Executive, said:
"We're really concerned about reports that the Government is getting close to a trade deal with Australia which could see zero tariffs on goods produced to lower animal welfare standards, failing to protect our own welfare standards and the livelihoods of British farmers.
"It was clear that no FTA would be laid before parliament without a report from this commission laying out how it impacts both animal health and welfare, and human and plant health. This was a key reassurance from the Government in response to concerns from animal welfare organisations and the public that our own high standards could be traded away for cheap imports. We're really worried that this deal could go ahead without the commission in place to scrutinise that agreement and what it means for animals.
"We'd urge the Government to hold fire on any trade deal until the commission is in place to ensure that our hard-won animal welfare standards continue to be protected."
Yesterday we launched a campaign to ask people to contact MPs on Twitter to tell them they do not want to see farm animal standards sacrificed for a quick trade deal.
What lower welfare standards the deal could allow
Australia has lower legal animal welfare standards than in the UK, including:
Barren battery cages for hens
Chlorinated chicken
Sow stalls - extreme confinement for pregnant pigs
Mulesing (mutilating sheep rear ends, sometimes without anaesthetic) - which isn't permitted in the UK
Growth hormone treatment for beef
Journey times of up to 48 hours without rest and live exports when the UK Government is looking to stop live exports and significantly reduce journey times
In addition, because production methods in Australia can be cheaper, flooding UK supermarkets with cheap, low welfare Australian imports would put UK farmers' livelihoods at risk.
Chris continued:
"Last week the Government unveiled the most comprehensive and important legislative agenda for animal welfare that this country has seen for a generation. We felt confident that the Government were committed to doing what is right for animals now and for the future to rebalance the way we live and work with animals for the good of us all. That is why we're urging Government not to fall at the first hurdle as we rebuild the way we trade as an independent nation and to keep promises to the public to put animal welfare at the heart of public policy.
"The UK public have made it clear they don't want lower welfare imports like eggs from hens reared in barren battery cages, chlorinated chicken, hormone treated beef and products from sheep that have been mutilated using practices banned in the UK coming into the country.
"This agreement with Australia is being hurried through before the Trade & Agriculture Commission is even set up, meaning there¿s no formal independent mechanism to scrutinise this deal to ensure higher animal welfare standards are at the heart of the agreement."
Our higher welfare and farmers' livelihoods are at risk
As part of its manifesto commitment, the UK Government promised to maintain and where possible, improve standards of animal welfare in the UK, particularly as new free trade agreements (FTAs) were negotiated. The UK has higher legal animal welfare standards than Australia in virtually every area. Australia has limited federal legislation on farm animal welfare and its codes of practice have yet to be converted into legally enforceable standards and guidelines so are non binding. The only independent guide to legal farm standards, the Animal Protection Index, scores Australia two levels lower compared to the UK.
To maintain its promises to the public and UK farmers, the Government must ensure tariffs are not relaxed on eggs, beef and pigmeat unless Australia's standards are equivalent to the UK's
and ensure our bans on imports of products produced with growth promoting agents are maintained.
Help us stop this deal and take action for our campaign.
---