RSPCA welcome Ag Bill publication as snares and glue traps set to be banned
RSPCA Cymru has welcomed the publication of the Welsh Government's Agriculture (Wales) Bill - which will introduce a ban on the use of snares and glue traps in Wales, following a long campaign by the charity.
The Bill will also pave the way for a new Sustainable Farming Scheme, which will provide the primary source of funding for farmers in post-Brexit Wales - and, after an RSPCA campaign, looks set to incentivise farmers delivering the highest standards of welfare.
Snares and glue traps
Plans to ban snares follow a Welsh Government commitment to do so contained within their programme for government.
RSPCA Cymru has attended regular meetings with the Welsh Government to highlight the negative impact that snares are having on animal welfare in Wales, despite the existence of the Code of Best Practice on the use of snares in fox control - which hasn't led to substantial improvements.
A snare is a wire noose, attached to a stake or heavy object acting as an anchor. They are usually set to catch foxes or rabbits, but cannot distinguish between different species of animals - so are indiscriminate in what they catch.
While self-locking snares are already illegal in Wales, others are not - but this legislation will change that, by prohibiting the use of snares, or any other cable restraint, for the purpose of killing or trapping a wild animal, or in any other way that is likely to injure a wild animal.
RSPCA Cymru is opposed to the manufacture, sale and use of all snares, and frontline officers sadly regularly deal with incidents where animals are found suffering in snares. Since 2019, 12 incidents have been reported to the RSPCA's emergency line involving a snare - including six in 2020, and four in 2021.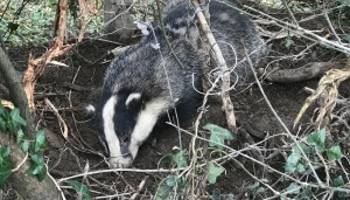 Last March, a badger had a lucky escape after being saved from a snare in Ceredigion. Inspector Jemima Cooper arrived to find the badger entangled in a snare around his chest - but, after a visit to a local veterinary practice, and following a period of rehabilitation, the badger could be returned to the wild. However, many trapped animals are not so lucky.
Glue traps, also known as 'glue boards' or 'sticky boards', consist of a sheet of plastic, cardboard or wood coated with non-drying adhesive designed to trap rodents such as mice and rats as they cross the board. RSPCA Cymru considers the traps cruel and indiscriminate - and has been campaigning for a ban in Wales.
Between 2017 and 2022 to date, seven incidents were reported to the RSPCA related to glue traps in Wales alone. A huge 73% of incidents seen by the RSPCA across England and Wales concerning glue traps involved non-target species such as pets and other wild animals, many of which were too badly maimed and injured to survive.
Sadly, in attempting to pull themselves free, animals can rip out patches of fur, break bones or even gnaw through their own limbs to escape.
Animals caught by both snares and glue traps can be trapped for prolonged periods of time experiencing potential pain, distress and severe suffering. Unattended animals can die slowly from dehydration, starvation or exhaustion.
Last year, two Senedd Members in Wales put forward RSPCA proposals to ban the use of glue traps into a Welsh Parliamentary ballot for Member-proposed legislation as part of the charity's #LawsForPaws campaign; and while they were not drawn from the hat, the Welsh Government later announced its own plans for a ban.
The ban on snares will see Wales become the first UK nation to outlaw their use. In England, the Glue Traps (Offences) Act received Royal Assent on Thursday and a ban will come into force in April 2024.
David Bowles, RSPCA head of public affairs, said:
It's great news that Wales is pressing ahead with plans to ban snares and glue traps, and we're proud of our campaigning efforts in recent years to help make this a reality.
Snares and glue traps have no place in modern Wales. Both have the potential to cause immeasurable suffering to animals.
On snares, this will be the first ban of its kind in the UK and will be a huge step forward in Wales. Too often, our officers have dealt with animals in severe pain and misery at the hands of these devices; which are cruel, indiscriminate and totally unnecessary. It will be a landmark day when this welcome law consigns them to the history books in Wales.
Agriculture support
The Bill is also set to give Welsh Ministers powers to provide support for farmers following Wales' withdrawal from the European Union. Recently, the RSPCA welcomed plans from the Welsh Government for a Sustainable Farming Scheme, which gave the strongest indication yet that farmers will be incentivised for delivering 'high welfare standards'.
Positively, the Welsh Government has now said it wants to build on Wales' farm animal welfare record "by helping farmers make sure animals have a good quality of life".
This is set to include a system to "recognise and reward high animal welfare standards which take into account the animal's physical welfare as well as their wellbeing"; with incentives to hinge on animals having "opportunities for positive experiences which allow them to have a 'good life' rather than simply removing factors that have a negative impact on them".
David added:
We've long said the Agriculture Bill offered the biggest opportunity in the history of devolution to improve farm animal welfare - and incentives for farmers to deliver higher standards will be key in meeting that challenge.
We've given a big welcome to the latest announcement for the Sustainable Farming Scheme, and with the Agriculture Bill now published, look forward to working with the Welsh Government to ensure the standards which are incentivised best improve welfare, and learn lessons from established, trusted assurance labels like RSPCA Assured.
While there's a lot to welcome from the Bill, we are keen to hear more from the Welsh Government on its plans for labelling produce as part of a drive to give consumers in Wales more information than ever before on what they are eating, where it has come from, and to what standards it was reared.