Give the gift of love with the RSPCA this Giving Tuesday
While we believe every day is the perfect day to help animals, November 29 is Giving Tuesday, a special chance to find out more about the many ways you can give to transform the lives of animals.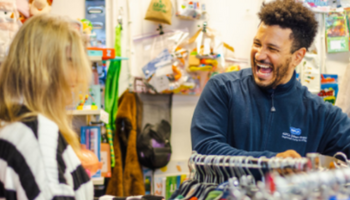 The international event is the perfect chance for people to find out more about what they can do to help support the RSPCA's life-saving work.
No matter how big or small, everyone can help make a difference for animals by showing they care by giving their love - whether that's by volunteering time, donating money, sharing skills, campaigning, donating goods or food, or through organising an event.
Every year thousands of animals suffer from neglect, cruelty and abuse. With your help, we can end their misery. To do this, we rely on caring people, voluntary fundraising and donations to carry out our vital work.
How you can help transform the lives of animals
To celebrate Giving Tuesday, we've been looking to find some of the easiest ways to help in transforming the lives of animals:
Food for thought
Help feed animals at RSPCA centres by donating items on their unique Amazon Wish list. Each centre has its own list - it's an easy way to make sure the animals get exactly what they need at just the click of a button.
People can also help animals and their owners during the cost of living crisis by donating to a pet food bank.
What can you do? Try something new
Do you fancy trying your hand at something new, or learning a new skill? For anyone with a little more time, there are numerous ways to get involved and help make an even bigger difference in the lives of animals!
Volunteers make a huge difference, not just in the time they donate and the tasks they do, but also in their ambassadorial role for the RSPCA, spreading our messages to their network of friends, family and beyond. They bring their skills, experience, energy and enthusiasm.
We have a diverse volunteer programme meaning there is something for everyone. From our animal care roles helping in centres and hospitals to field-based roles within the Inspectorate and education to home-based roles in support and administration. We've also developed digital roles for volunteers who are time-poor, and professional roles for those who like to donate their talent and skills for good.
There are also micro-volunteers who take part in digital and community tasks that support our animal welfare work at both a national and local level.
Find out more about our volunteer roles and apply to share your time.
Rise to the challenge
From sporting races and challenges to fun days, cake sales and beyond, events are great for helping to raise awareness. This helps us to bring in much-needed funds and ensure we can continue to rescue, rehabilitate, rehome and release animals in need.
If you'd like to be part of Team Animal find out more about how to take part in your own challenge.
Open your heart and your home
We rehome around 40,000 animals every year across England and Wales - proving one of the very best ways to help rescue animals is to welcome them into your life!
We don't have a blanket rehoming policy; we believe that every animal (and owner!) is an individual and we work hard to place the right pets with the right new owners.
You can refine your search on our Find-A-Pet to find the perfect match. You can also sign up for email alerts when animals matching your criteria come into our care.
We're also looking for foster carers who can offer temporary homes for those animals who aren't quite ready for their fresh start. Fosterers are hugely important to us, providing a lifeline to some of the most vulnerable and needy animals who come through our doors.
Fostering can help an animal recover from neglect, abuse, illness or injury, and is often the first step in them finding a new, loving forever home. It is a vital part of rehabilitating animals and helps to prepare them for a new home, offers them one-to-one care, improves their chance of finding their forever family, and frees up space in our centres, so we can rescue more animals in need. Some animals don't cope well in our centres while others may need to remain in our care for a long period of time while legal proceedings take place. This is where foster homes provide a valuable service.
Find out more about fostering or contact your local branch or centre to find out about becoming a fosterer in your local area.
Care with a share
One of the easiest ways to help animals is to share social media posts. From helping rescue animals find their special someone, to raising awareness of RSPCA campaigns, social media helps provide a chance to amplify the voice of animals who need it most.
With Facebook, Twitter, LinkedIn, Instagram, and a newly created TikTok channel there is a way for everyone to get involved!
RSPCA branches, centres, hospitals and wildlife centres also have their own social media pages where they showcase their work to transform the lives of animals.
Giving a voice to the voiceless
Anyone who cares about animals as much as we do can help give animals a voice by signing petitions, writing to MPs, and by signing up for our campaign newsletter for regular updates.
Recycling to the rescue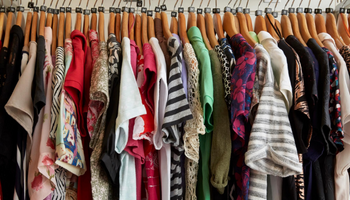 Donating unwanted items is a way to support an RSPCA branch by helping generate the money needed to run local rescue centres and animal welfare schemes.
We're always looking for donations of clothes, bric-a-brac, handbags, jewellery, toys, books and DVDs.
Charity shops are also an important way to shop ethically and sustainably, at the same time as supporting good causes like the RSPCA.
There are some amazing bargains to be had in our shops that will make you look good but also make you feel good that you are stepping away from fast fashion which is damaging to the environment, animals and our wallets. Fast fashion is clothing that moves quickly from catwalks to stores in order to meet new trends. The items are often cheap and disposable and ultimately end up in landfills.
The Charity Retail Association estimates each charity shop saves 29 tonnes of textiles from going into landfill each year, with over 300 RSPCA charity shops that are around 8,700 tonnes saved!
Find your nearest RSPCA charity shop.
Winning for animals
You can be in with a chance of winning money for yourself while winning for animals when you play the RSPCA Weekly Lottery. For as little as £1 a week you could win £1,000 in our weekly jackpot or one of 100 cash prizes! You could also win up to £10,000 in our quarterly Superdraws.
Gift of life
Buy the perfect gift for your loved ones and pets while supporting the RSPCA and helping to help animals this Christmas.
By shopping with the RSPCA you can treat your family, friends and pets to fabulous gifts while also supporting the charity's work to rescue, rehabilitate and rehome or release animals in need.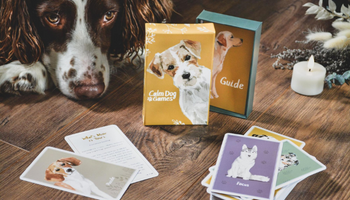 For those who are looking for an alternative to gifts this Christmas there is also the chance to help animals by sending friends and family an RSPCA Charity Gift Card. Ranging from £10 to £100, the charity gift cards are treated as donations, going towards looking after animals in our centres to help them recover from injury, cruelty or neglect.
Simply select your choice of gift and we'll send you a beautiful photographic greeting card featuring an animal we have rescued, complete with an envelope left blank inside for you to write your own message. All cards explain how your gift helps animal welfare, and make the perfect gift for the animal lover in your life.
View our online catalogue for more gift ideas.
Payroll giving
By donating through your payroll you will be helping the RSPCA to rescue and care for animals in need, and helping to educate and inspire people to stand up for and act on behalf of animals. Regular funds also mean that we can plan ahead and there's less admin for the charity with no gift aid forms to complete!
£5 could help provide treats or toys for a cat or dog, £10 could help to provide a day's board for a horse who has suffered cruel treatment, £20 could help feed some of the wild animals in our care, and £50 could help towards emergency medical treatment for a sick animal.
To sign up or to find out more visit payroll giving
Don't let animals pay the price of the cost of living crisis this Christmas. Join the Christmas Rescue today
---