Giant African land snail discovered in box at parcel delivery centre in Leicestershire
The RSPCA was called after workers at a DPD distribution centre found a box with a giant African land snail inside.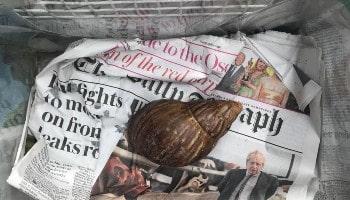 The snail was discovered inside a box with no address of where it had come from, or any delivery address. There was also no packaging or substrate inside the box which was found at the distribution centre in Hinckley, Leicestershire on Thursday 5 August.
RSPCA Inspector Richard Durant attended and collected the snail which was around 4-5 inches in length and with the shell size of a large lemon, and took the snail to an exotics specialist for care.
He said:
The workers found an unmarked box containing a giant African land snail amongst the boxes ready to be distributed for delivery across the country. When they realised there was this giant snail inside they contacted us for help.
Luckily, the snail was doing okay and could be transferred straight to an exotics centre for specialist care.
Giant African land snails can reach up to 7.8ins in length and weigh around 32g. The hermaphroditic creatures can also live up to 10 years.
Richard added:
Giant African land snails are kept as pets but we don¿t come across them very often so it's strange to find one in such a random place. We have no idea whether someone abandoned this snail, or whether they were trying to post the poor creature.
As with all pets, it's really important that anyone thinking of taking on a giant snail is aware of what is involved in taking care of them before they bring one home.
If anyone has any information about this please contact the RSPCA on 0300 123 8018.
For more information about giant African land snails, please visit our exotics page to download a care sheet for this species.
To donate to the RSPCA's Cancel Out Cruelty campaign and help us continue to rescue animals in need.