We reveal funniest calls of 2020 to cheer you up this Blue Monday
What a year 2020 was; it wasn't exactly full of laughs. But, as 2021 gets off to a fairly bleak start and the nation faces Blue Monday - the gloomiest day of the year - we've decided to come to the rescue. Here's a round-up of some of the funniest call-outs we had last year, just to cheer you up and banish those Blue Monday blues...
'Get here snappy!'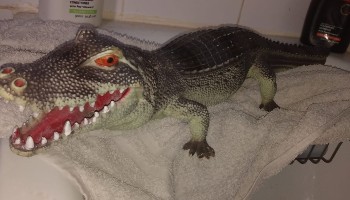 A woman fell for a family prank and called us in to help rescue a baby alligator that turned out to be a plastic toy!
Clare Kelly, from Rhyl in Wales, sounded the alarm on 30 June when her brother tricked her into believing a baby alligator had been found in a bush before being placed in the bath of their home.
Our inspector Andrew Broadbent was suspicious from the outset but went to the home: "As soon as this call came in, it seemed highly unlikely to be true! But it's important to never rule anything out in the animal welfare world, although there aren't too many alligators lurking in the bushes in Rhyl!"
Hiss-taken identity
Our animal rescuer Jessica Pierce was called to a home in Manchester, on 20 February, after a man said he'd found two snakes in his bedroom.
Jessica said:
The caller said they'd first spotted the large red and black snakes playing in his bedroom but that they'd since disappeared. Our call centre staff asked them to ring us back if they spotted the snakes again. When they called again I quickly went out to help them. When I arrived I quickly established that the snakes were in fact a piece of material! We all had a giggle about it; another case of hiss-taken identity!
Esssscape rooms
A terrified woman was stuck inside her flat after spotting an escaped snake in the hallway of her block in Fleet, Hampshire, on 20 February.
Our inspector Jan Edwards was called in to help and said:
"The woman spotted the snake in the communal hallway of her block of flats a few days earlier and said it had slithered up the wall. The following day she spotted it on the windowsill and contacted us to say she was worried because it didn't appear to be moving.
"When I arrived it quickly became clear that it wasn't an escaped pet snake - but a child's plastic toy! I think someone may have been playing a prank on the poor woman. She had been so frightened that she hadn't left her flat!"
The snake has now been adopted by Jan as her van mascot!
Stoned
One of our officers dashed to Beckenham, London, after a concerned passerby spotted a tortoise stuck 7ft up on the roof of a carport.
Mat Hawkins was extremely concerned for the stricken tortoise particularly as the caller said it was windy that day. Mat said:
"I've rescued a lot of animals after getting stuck on roofs but a tortoise on a roof is a new one! A fall from that height for a tortoise could be fatal. But when I arrived it was clear I needn't have worried and there was no concern for the tortoise's welfare - as he was made of concrete!"
Let's go fly a kite!
Residents in a block of flats were worried about a bird who was stuck hanging upside down from a balcony in Romford, London. Our inspector Chris McGreal was called to the distressed bird on 14 April after callers reported the bird to be tangled up in a rope that was hanging from a satellite dish. Chris said:
"I was worried that the bird could be strangled and witnesses said it was flapping around and trying to free itself. But as soon as I got a closer look I realised it wasn't a bird at all - but a kite! Crisis over!"
Should've gone to Specsavers
A man in his 90s giggled with an officer who attended his home to help an injured bird - only to find a plastic bag in his garden.
Our deputy chief inspector Emma Stainthorpe went to Hartlepool, County Durham, on 21 February, after a man reported a bird that was unable to fly and had been stuck in his garden for hours. Emma said:
"When we arrived we soon realised that it wasn't an injured bird - but a plastic carrier bag that had been blown into his garden and got stuck on a weed! He was very apologetic but we all had a good giggle about it. He said he definitely needed to go to Specsavers!"
Fowl play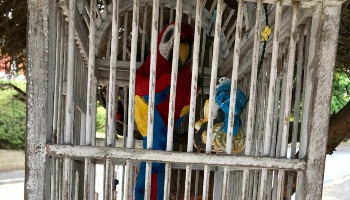 We surprised a keen gardening couple with a visit after one of their ornamental decorations was mistaken for a live parrot in a tiny cage!
Our inspector Vicki McDonald was called to the couple's colourful home in Preston, Lancashire, on 17 June. Concerns were raised about the size of the bird's cage and Vicki went to investigate but soon found it wasn't quite what she'd expected.
In my 20 years as an RSPCA inspector, I have to admit this was a first for me. I'm experienced in dealing with all sorts of animal emergencies, so I had prepared myself for dealing with a real parrot, especially as I could clearly see the white cage swinging from the tree as I arrived. Of course, I couldn't help but chuckle when I peered up into the cage and saw the plastic parrot, with his solar-powered eyes glaring back at me!
Dead hot
Our animal rescuer Jessica Pierce was really concerned when she was called out to Manchester to a cat who had collapsed and hadn't moved for three days. But when she arrived she found he was perfectly healthy and very happy - sunbathing in a warm spot on the concrete! She said:
He'd found a nice sunbathing spot and was soaking up some rays. The lazy cat didn't have a care in the world.
Get meowt of here!
Our inspector Herchy Boal knew she may have to get inventive to rescue a kitten that was reportedly stuck behind a radiator in Birmingham, West Midlands. She was called in to help on 10 July after a man claimed to have found a kitten trapped. Herchy said:
"We've been called out to lots of kittens who have managed to get themselves stuck in strange places so I wasn't completely surprised to get this call. However, when further details came through that the man believed the kitten had been there since he moved in a month earlier I became rather suspicious!"
Herchy's instincts were right because when she arrived the crying kitten turned out to be a squeaky door!
Are you toying with me?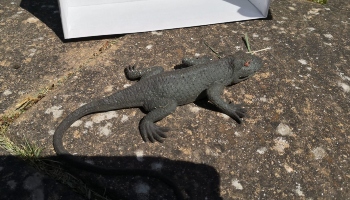 One of our officers was called out to rescue an 'unresponsive lizard' but turned up to find it wasn't what it had appeared - and was in fact a plastic toy! Ben Jones was called to Coventry, Warwickshire, and was worried that he was going to find another abandoned reptile needing help. He said:
"Sadly, we see a lot of reptiles being abandoned so I was concerned that this lizard had been dumped. However, when I arrived at the scene it was clear to see that the lizard was unresponsive for a very simple reason; because he was a plastic toy! I did have a chuckle - it certainly brightened my day!"
Reptile dysfunction
Sonia Hulme went to a home in Stockport, Greater Manchester, on 22 April after a young family spotted what they believed to be a lizard sunbathing on their chimney pot. They were concerned the lizard might venture into the house down the chimney or might be stuck on the roof. When Sonia arrived she quickly realised it wasn't an animal at all! She zoomed in on her phone camera to reassure the family and went on her way.
Surprissssssse
Our inspector Nichola Geraghty was extremely concerned when a call came in about a snake that was 'hanging' from a roof in Birmingham, West Midlands. She rushed to the scene on 24 September after a woman called to report the snake hanging from the guttering above her back door. Thankfully, it didn't take long for the animal expert to establish that the snake didn't need any help - because it was a piece of roofing felt!
What a hoot!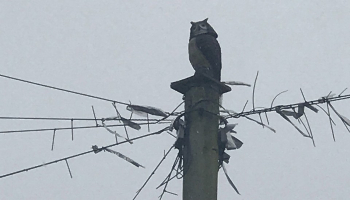 Animal rescuer Kris Walker was already thinking about the logistics of launching a rescue mission as he drove to Bradford, West Yorkshire, on 3 November after a call reporting an owl stuck on top of a telegraph pole.
Kris said:
"The woman who called it in was extremely worried for the bird and thought he'd got stuck on the pole as he'd not moved for several days. When I arrived I could see the pole she was talking about but after taking my phone out and zooming in on my camera my worry turned to relief. The bird wouldn't need rescuing - as it was a plastic statue! The caller was mortified when we told her!"
---