RSPCA reviews the funniest top animal rescues of 2022
RSPCA rescuers see the funny things animals do first-hand.
In 2022, the charity's officers were called to thousands of incidents, including many in which birds, wildlife, pets and farm animals have found themselves in a sticky situation.
Dermot Murphy, RSPCA Inspectorate Commissioner, said:
With our teams out rescuing animals from danger and suffering 365 days a year, we're often their only hope. It's an honour to be able to lend a hand to animals in desperate need and we hope people enjoy seeing some of the weird and wonderful places animals have found themselves in need of our help.
This winter we're asking people to show their support by joining the rescue to help us raise funds to make sure we can continue to be there for animals in need.
The Top 5 funniest animal rescues from around the UK
1. Trouble on the Isle of Sheppey
A hedgehog got stuck in a vertical ground pipe and needed to be rescued by the RSPCA and fire crews. Rescuers were called to the Isle of Sheppey Holiday Village in Leysdown-on-Sea, Kent, on 9 April after the little hog was found jammed.
Portia Mearns, RSPCA officer said:
He was massive - so big I'm not sure how he got in there. Unfortunately, his size made it extremely difficult for me to extract him, so I asked the local Kent Fire and Rescue crew if they could help. The team was great, and slowly but surely managed to ease him out of the pipe. I was then able to take him to a wildlife centre for rehabilitation.
2. Mischievous fox cub stuck in London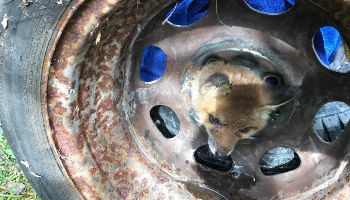 A mischievous fox cub ended up stuck after getting his head wedged in a car wheel in London! The wheel was being stored in a shed in Orpington and the RSPCA was called, on 18 April, to help. Rescuer Rodney Kenny went to help,
This little chap had put his head through the middle hole of the wheel, but to his dismay, then found he couldn't get it back out again. The residents had also discovered his sister in the shed, anxiously watching her brother. I knew that there was no time to spare. It is likely he had been trapped for several days without food or water, so the little fox needed to be freed as soon as possible
He used soap to gently ease him out and, as the callers hadn't seen the cubs' mother for some time, decided to take both into care.
3. A stuck sheep in Greater Manchester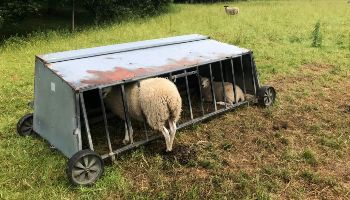 A sheep needed a helping hand after getting stuck between the bars of a metal field feeding station. Rescuer Helen Chapman was called to a field in Wythenshawe, Greater Manchester, on 27 June after the stricken sheep was spotted by a walker. Helen said:
This sheep appears to have been carrying a little too much weight and got wedged between the bars of the field shelter! The metal structure is designed to allow the lambs and young sheep inside to reach supplementary food while keeping the adults out. But this greedy ewe decided to push her luck and try to get the extra feed, getting her back end stuck outside the bars!
Helen was able to unscrew a mechanism and widen the gaps to free her and she ran back to the flock.
4. Trapped toad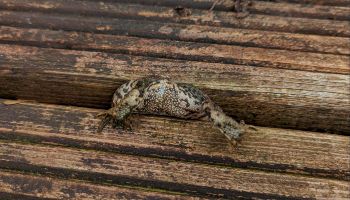 A toad who had hopped into a difficult predicament needed a helping hand. The critter had become trapped between two decking boards in Willenhall, West Midlands, on 2 August. Rescuer Ash Moore said:
The poor toad was very distressed. He had become wedged in between two pieces of decking with most of his body squeezed through the gap and his legs trapped on the other side.
Ash was able to use some washing-up liquid to make the toad slippery and a screwdriver to widen the gap before popping him free and getting him checked by vets before being released.
5. A greedy rat helped in Hertfordshire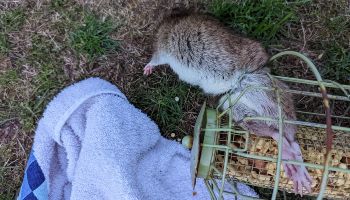 A greedy rat ended up in a spot of bother after his belly was bigger than he anticipated! RSPCA rescuer David Waite was called to London Colney, Hertfordshire, on 1 October after a man spotted the stricken rodent. David said:
The rat must have pushed himself into the metal bird feeder to gorge on the bird seed but then realised his eyes weren't bigger than his belly, but his belly was bigger than he anticipated. He got stuck fast so I had to cut the bars of the feeder to free him. Thankfully he wasn't injured so I set him free there and then.
Animals need us to help them get out of sticky situations, some more severe than others. You can help us to continue rescuing and rehabilitating animals in need by donating online.