We appeal for funds to help abandoned and emaciated dog
The RSPCA South Cotswolds branch is appealing for funds to help get an abandoned dog back on his paws again.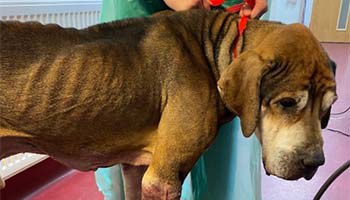 Arthur, a Great Dane cross, was found wandering around a park in Edgbaston near Birmingham in February. He was very skinny with all his ribs showing and he had pressure wounds likely caused by laying down on hard surfaces for a long time - which had become infected.
It's believed poor Arthur was abandoned when his condition deteriorated and that he had likely been neglected for a while before he was found.
Speaking after the rescue, Inspector Vikki Taylor, said:
It's so sad to see how emaciated and weak poor Arthur is and it appears he had probably been left laying down on a hard surface - maybe in a garden or kennel - for long periods of time which has caused pressure wounds.
These have become infected probably because he has been left lying in his own faeces and urine. He just doesn't seem used to walking at all - it's so sad.
He's currently having emergency treatment at the vets and they are worried about what underlying health issues he has - but he is a lovely friendly dog in spite of what he has clearly been through.
I believe his owner deliberately decided to dump him and left him in such a weak and neglected state in the park at night. It is so sad he was allowed to get in to this state but I am grateful to the person who found him and alerted us.
A happy and sweet boy
He's now in the care of Cotswolds Dogs and Cats Home where the five-year-old dog is receiving veterinary treatment for his sores and an ear infection, as well as lots of love and attention.
Despite his condition, Arthur is a happy and sweet boy who loves lots of fuss.
Tash Williams, an Animal Care Assistant at The Cotswolds Dogs & Cats Home, said:
Knowing Arthur was abandoned and just left all alone makes me feel so sad as he is a big friendly giant who just wants all the affection he can get. He is a true big softie and any one would be lucky to have him in their lives.
Road to recovery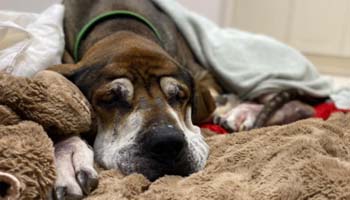 Arthur needs constant medical care but the branch is confident they can make him more comfortable and get him on the road to recovery with the support of generous animal lovers.
This gentle giant's medical costs are around £300 a month and he also eats a staggering 1kg of food per day on a special diet which comes to £100 a month, so we're hoping to raise £400 a month to cover the costs of caring for Arthur.
To sponsor Arthur for as little as £10 a month and become part of 'Arthur's Support Group' with regular updates on how he is doing, visit the Sponsor a Cotswolds Dogs & Cats Resident page.
A donation of just £13.50 could cover Arthur's medical costs and food for a whole day! To make a one off donation to help Arthur, visit the Cotswolds Dogs & Cats Home donation page.
---