Fundraising appeal to help Bertie breathe
A fundraising appeal has been launched for an operation to help a young French bulldog breathe better.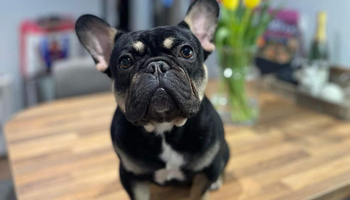 Bertie, who came into the care of RSPCA Herefordshire Branch on 6 December last year, is suffering from Brachycephalic Obstructive Airway Syndrome (or BOAS) which causes him to have difficulties breathing.
Bertie - who is just over a year old and came from the Swansea area - is just one example of a surging number of brachycephalic (or flat-faced) dogs who find it impossible to carry out normal dog activities such as walking, playing, or even sleeping.
In a video taken by his foster carer, you can clearly hear his breathing difficulties - and it is hoped that a special operation will make things a lot better for him.
Sarah Perks from RSPCA Herefordshire Branch, said:
Sadly Bertie, who came from Wales, was bred badly and during the start of his little life, he experienced four homes in the first 11 months of his life being taken into foster care with us.
We are very glad to be looking after him, and we are delighted to also report he is also reserved to have a forever home.
In the meantime, we are looking towards his surgery which will help him breathe more easily and live a full and happy life.
However, this comes at a cost of around £1,000 so if anyone can help in any way, no matter how small, we (and Bertie) will be very grateful.
RSPCA animal rescue officer Paula Milton - who first dealt with Bertie when he came into RSPCA care - said:
I first met Bertie after sadly his owner wasn't able to keep him due to their poor health.
I spoke with RSPCA Herefordshire and luckily they had a foster carer who was able to care for him and I am so glad he has settled with them so well. It was lovely to see him go to a home environment rather than into a kennel.
Unfortunately, these breeds do suffer with their breathing but having the operation will hopefully make such a difference.
The RSPCA recently launched a campaign - Save Our Breath - urging the public not to buy breeds of dog, cat, rabbit and horse who cannot live normal lives due to the irresponsible way they've been selectively bred.
Following the surge in demand for pets during lockdown there are fears that more brachycephalic dogs and other pets will have been bred by breeders resulting in even more sickly animals requiring expensive veterinary treatment to help them carry out the simplest of everyday tasks such as walking and playing.
And the RSPCA fears that more of these animals could be abandoned or relinquished to charity as their owners struggle to cope with costly veterinary bills as the cost of living soars.
To help with the cost of Bertie's surgery please donate here and you can find out more about the branch on their Facebook page.
---