RSPCA appeals for support to help fund kitten's eye surgery
The RSPCA Cotswolds branch is appealing to its generous supporters to help fund critical eye surgery for a poorly cat in its care.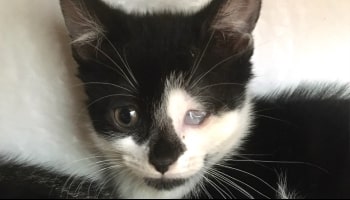 Andy was found in a garden in Sparkhill, Birmingham, with his three siblings. The litter were alone without their mum and suffering quite badly from cat flu. Andy was suffering so much that he had a ruptured eye.
Unfortunately, this means the 11-week-old cat can no longer see through this eye and it needs to be removed to prevent further complications.
Haley Medlock, from the RSPCA Cotswolds Cats and Dogs Home, said:
Poor Andy is in a bad way. He's currently receiving twice daily eye drops, treatment for ear mites and cream to treat sore patches on his neck. He really needs surgery to remove his ruptured eye but as he is still quite young the vets have advised we wait until he is a little bit older to make the surgery safer.
Despite everything Andy is going through, he is a very playful little kitten. He loves to run around the pod playing with his sister Zoe. He is friendly with people and is growing in confidence each day.
Cat flu can sometimes be fatal
Cat flu can make cats very poorly with sore eyes and blocked noses and if left untreated, it can lead to permanently damaged eyes, pneumonia or, at worst, it can be fatal.
Haley added:
We're now appealing to our kind supporters to help fund Andy's surgery which will cost £2,000. As a branch of the RSPCA and a separately registered charity, we rely on funds from our amazing animal lovers and supporters in the local area and we need your help now more than ever to ensure Andy gets the treatment and care he needs.
You can help contribute towards the surgery or sponsor Andy for as little as £10 a month.
Any money raised over the cost of Andy's treatment will go towards medical costs of other animals at the local centre.
You can also donate to the RSPCA's Cancel Out Cruelty campaign and help us continue to rescue animals in need who have suffered at the hands of cruelty.