Teenager creates chocolate boxes to raise money for the RSPCA
A teen from Fulham in London has created her very own chocolate 'business' to raise vital funds to help animals in need throughout the pandemic.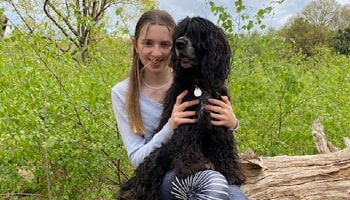 Bella Manson, 14, came up with the idea on a walk with her father Eamonn Manson and her dog Elsa, after she had made some chocolate treats as a gift for Christmas.
Eamonn said: "The idea was to make 10 more boxes and give them to family and friends but it didn't take long for Bella to suggest we make more and raise money for charity. There was no doubt in her mind that it would have to be an animal charity as she believes that without our help, animals are helpless to look after themselves.
So she chose the RSPCA, as it was a charity that ticked all the boxes of animal welfare and they were also an organisation she had previously raised money for in her old school at Fulham Prep. So she set her sights on raising £500 to help animals in need."
Chocolates, chocolates, chocolates!
Bella added:
"After that walk it was just chocolates, chocolates, chocolates! The fun had begun! Over the next couple of months I did a lot of melting, mixing and munching in order to put together various flavour combinations so that I could make the nine different chocolates which would fill the final boxes."
The Fulham teenager then spent hours searching for affordable but professional looking packaging and came up with a logo. She also contacted the team of chefs at her dad's restaurant Brook House in Fulham to assist her with making lots more chocolates.
She came up with the name 'Doodles' as her nine-year-old cocker spaniel dog is called Elsa Doodle, and it seemed fitting to name the chocolates after the dog who inspired the idea to raise money for the RSPCA. Selling the boxes to family and friends, she managed to raise a whopping £900 for the animal charity.
Bella said:
"The final part of the project was making a video to send out to family and friends with a request for a donation for the RSPCA. The response was fantastic! My only regret was that we didn't make more, as many people wanted multiple boxes."
Bella also received a Co-curricular Achievement Award for her outstanding charitable achievement for the RSPCA from her school Bradfield College.
Do you want to raise money for us? We have many fundraising ideas to get you started.