From zero to hero: Rescue pony completes 70 kilometre challenge
A young pony who we rescued and brought back to health completed a long-distance challenge, trekking an amazing 70 km.
With his adopter Diane Tranter by his side, five-year-old Dave took on the challenge walking more than 70km around the Peak District this summer.
A journey full of new experiences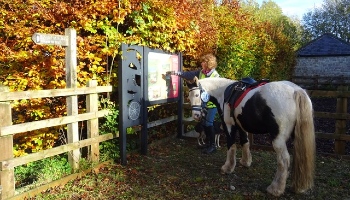 The plucky pony, who just three years ago was found collapsed and on the brink of death, not only aced the long distance across moorland, woodland and former railway lines, but faced several new experiences such as traffic, tunnels and bridges, not to mention cyclists, climbers and walkers too. It was no mean feat for a young rescue pony who had previously seen very little of the wider world outside the field where he was abandoned as a foal.
By clocking up several miles a day at a time, Dave and his adopter Diane Tranter built a unique bond during their challenge to reach 70 kilometres to raise funds for new bridle paths in the area for the British Horse Society's Rideathon Challenge. The pair were also supported along the way by family and friends who joined them for parts of the walk to cheer them on.
Despite being abandoned Dave the pony is full of life
Diane said:
"When I first adopted Dave it became clear quite quickly what a charismatic pony he was, but completing this walk with him in-hand has shown me a side to him that I never could have imagined he had.
"He's such a super little pony and seeing how much joy he has brought to all the people we've met on our walks has been incredible. Who knew such a little pony, who started out life so insignificant to someone that they abandoned him and left him for dead, could turn out to be such a special pony!"
Diane loved Dave's name and quirky character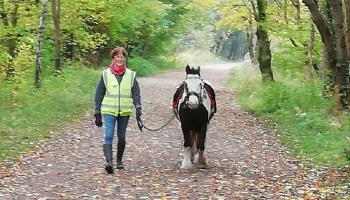 Diane adopted Dave in May 2018 from our Gonsal Farm in Shropshire when she was on the lookout for a field companion for her riding horse. After considering another rescue pony at the rehoming stables, it was Dave's name and quirky character that led her to choose him and take him home to her stables in Derbyshire.
Diane said:
"At just 12.3hh, Dave is a pocket-sized pony, but what he lacks in height he makes up for in character and strength! Though he's small, he's incredibly strong and nimble, as I discovered the day I first saw him jump the fence out of his field and follow me back to the yard! I knew then that this little pony wasn't destined to graze in a field all day - he wants to be with people.
"I'd never owned a cob before, but Dave really is nothing like I had imagined him to be. He's curious, friendly, has beautiful movement and can clearly jump very well! After six months of adopting him 'on probation,' I couldn't wait to sign the paperwork and fully own him.
"When the opportunity came up to do the distance challenge I had initially planned to take my Thoroughbred riding horse, but I thought about it and realised it would be much more interesting for people and would perhaps encourage more donations to the cause if I were to walk the distance myself, and what better companion than little Dave?"
Dave has an infectious personality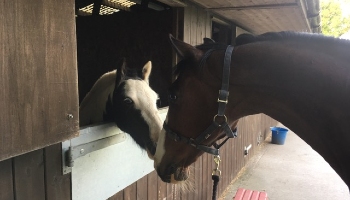 Completing the 70k over several weeks by walking a few miles each day, the pair were a hit with passing cyclists, walkers, climbers, and even families on day trips.
Diane added:
"Because of the first lockdown back in the spring I think it was all the more special to be outdoors with Dave surrounded by nature, and the people we met along the way seemed so taken with him, even those who told me they had never even patted a horse before were smitten with him and his friendly, inquisitive nature - he made their day! He's certainly an excellent poster-boy for horses in general.
"Experiencing this unique adventure with Dave has shown me the importance of spending time on the ground with horses when we start their education, and that even ponies of his size who are too small for most people to ride have such a huge amount to give to us and are worth their weight in gold. I have to admit before meeting Dave I had never given much thought to the potential of little cobs that sadly we know are ten-a-penny in rescue centres, but Dave has opened my eyes to their wonderful personalities and potential. There's so much more to horses than just riding them!"
Dave and Diane's Rideathon challenge raised funds for The British Horse Society's Ride Out
Fund, which helps provide safe off-road routes around the UK for horse riders and carriage drivers.
It was touch and go when we first rescued Dave
Kate Clement - our equine centre manager at Gonsal Farm, where Dave was cared for after his rescue back in spring 2017 - is delighted that Dave is enjoying a bright future.
She said:
"Dave has grown into a cracking little pony whose 'superpower' has always been cheering people up - even when he was here with us at the rehoming centre, though his first few months of life were a far cry from the happy life he has now.
"After being saved by our animal rescuers from a muddy, bare field where he was found emaciated and collapsed, Dave needed a lot of treatment and he spent the first three months after he was rescued being intensively cared for at a veterinary hospital. Poor Dave was emaciated, had liver function tests and a lice infestation which then led to a skin infection - he was in a very sorry state indeed, and was a very depressed little pony.
"After numerous blood tests, a scope, an abdominal scan and a belly tap, the vets couldn't find out what the problem was, so treated him with antibiotics and eventually Dave made a full recovery. Some of his problems would've been caused by worm damage as is so often the case with our ponies, which is terribly sad because it can be so easily prevented.
"It really was touch and go for Dave for a while as he just didn't seem to be getting better, but then all of a sudden he responded to the medication, bounced back as this super little pony that was full of life, and ended up being rehomed to the lovely Diane. I am sure that if he hadn't come into our care he would've died, and I couldn't be happier to see him now living his best life."
Helping animals like Dave this Christmas
If you've been inspired by Dave and Diane's story and would like to find out more about how you can help us by rehoming a rescue pony, please see our horse rehoming pages.
If you're not in a position to rehome an animal, donating just £25 could help keep our Animal Rescue Teams on the road rescuing ponies like Dave.
This winter, we expect to rescue thousands of animals from neglect, cruelty and suffering. To help our rescue teams reach the thousands of animals who desperately need us, Join the Christmas Rescue.
---