RSPCA rescued fox who was trapped on River Thames beach
RSPCA officers turn the tide for fox trapped as the tide crept in on Thames beach.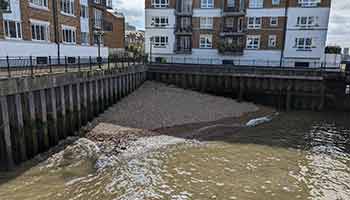 The animal was saved from drowning by RSPCA animal rescue officers Lee Ricketts and Neil Coleman, brought him to land as the tidal waters were lapping across the small strip of sand at Rotherhithe Street near the Salt Quay pub in Rotherhithe.
The timely intervention by the AROs wasn't the only one of a fox being rescued by the animal charity's officers in the Greater London area in the last week. They have cut free several foxes who have become trapped in football goal netting and the RSPCA says people should take more care of how they use nets to avoid putting wildlife in peril.
At Rotherhithe, a member of the public called the charity after spotting that an adult fox had fallen off the Thames footpath and was stranded on the sand on April 25. The fox was hiding under a metal beam that separated two strips of beach and reaching him proved to be a difficult task.
Animal rescue officer Ricketts said:
The tide was coming in and we needed to assess the situation quickly. I called the Thames coast guard who gave us permission to access the beach.
Once we were down on the beach I was able to reach the fox and catch it with my grasper pole. I placed it in a basket and myself and ARO Coleman safely lifted it off the beach and onto the footpath. He would have almost certainly drowned if we hadn't got to him.
Foxes are very difficult to catch and we had to plan around the tide and time it right. It was about 10 ft down off the footpath and it looks like he's jumped down to get a bird and has had no way of getting back up. He was too quick for us at first, but I got hold of him with my grasper and lifted him up to Neil. He was quite lively and while he was damp he wasn't injured fortunately, so we released him into a park that was about a minute away from the location.
Residents, including those of a nearby tower block, were advised to keep an eye on the area as there have been several similar incidents reported.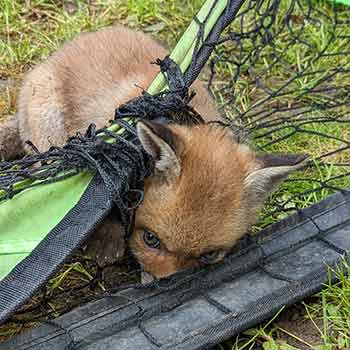 The RSPCA says householders should take more care when leaving netting, like those used in garden football goals, after a fox cub was fortunate not to be strangled when his neck was caught in broken netting at a property in Salisbury Avenue in Cheam on April 28.
Animal rescue officer Portia Mearns said:
The cub got more tangled up trying to get free. He was dangling down and his back legs were stuck in the netting, but I managed to cut him free and place him in a fox basket.
Apparently, the householder who alerted us has three cubs and their mother living under a slide in the back garden. But the goal netting was broken and a hazard, so we advised them about the dangers they pose. We are doing a lot of fox rescues at the moment as it is fox cub season - it can be through abandonments or cubs that have been trapped and injured like this one.
The rescued cub suffered a swollen leg during his ordeal and was taken to the South Essex Wildlife Hospital and is expected to make a full recovery.
Meanwhile, inspector Philip Norman came to the assistance of another fox who was trapped in a child's goal net by his neck and legs. Fortunately, the animal had suffered no injuries and the inspector was able to release him in the garden.
Shockingly, last year, the RSPCA took nearly 1,800 calls relating to animals entangled in netting; including 162 foxes and 62 hedgehogs. We're reminding the public that putting netting away after use to prevent wild animals from getting entangled is a great way to help native wildlife.
The RSPCA is backing the biggest volunteering event of the year - the Big Help Out, on 8 May. The charity is recruiting 'Wildlife Friends' to volunteer and help protect the wildlife they share their communities with. Join the hundreds who've signed up!
---