End the flat-faced dog parade at Crufts! RSPCA calls on dog show to change in 2024
As Crufts 2023 comes to an end, the RSPCA is calling on dog-lovers to sign an open letter to the organisers in a bid to end flat-faced dogs who suffer for their looks.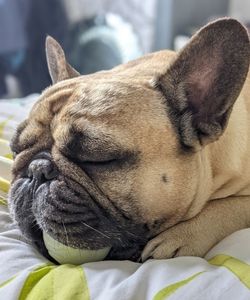 The RSPCA has urged organisers to ensure 2023 was the "last time" dogs who can suffer like this - namely French bulldogs, pugs and British bulldogs - are paraded in front of judges.
Concerns this year included the British bulldog 'Best of Breed' winner failing a vet check, while the French bulldog 'Best of Breed' winner who went through to the Utility Group final had pinched nostrils.
The RSPCA launched its Save Our Breath campaign last week to highlight concerns that flat-faced brachycephalic breeds such as French bulldogs, British bulldogs and pugs can suffer from terrible breathing issues and many dogs cannot live normal lives due to the irresponsible way they've been selectively bred.
The public can show their support for the campaign by signing an open letter to Crufts organisers The Kennel Club on the RSPCA website.
New research by the RSPCA* has shown that:
58% believe breeds such as British bulldogs, French bulldogs and Pugs should not be allowed to compete at Crufts

78% support mandatory health testing for brachycephalic animals in order to compete at Crufts

84% think that Crufts has a responsibility to show only healthy dogs

After being shown information about brachycephalic animals and Crufts, 62% agree Crufts is leading others into believing that brachycephalic animals are healthy.
The animal charity's dog welfare expert Dr Samantha Gaines said:
This year, the RSPCA closely watched the world's biggest dog show, and just like in previous years, we were left feeling hugely frustrated again.
Year after year, judges choose breed and group winners based on how closely they match the 'breed standard' - even dogs who have visibly exaggerated features that are associated with serious health issues.
The RSPCA is publicly calling on Crufts to stop showing popular 'flat-faced' dogs, including French bulldogs, pugs and British bulldogs for the simple reason that these breeds can suffer from debilitating health issues. We hope that this year's event was the last time these breeds are paraded for, and celebrated by, judges until these breeds are restored to good health and welfare.
Positively, new polling suggests most people agree with us - and that this has to stop. Yet, Crufts has a worldwide platform and showing these breeds gives the impression that they are healthy - even though research suggests that some of these dogs will have a much-reduced lifespan than other breeds.
Emma Slawinski, campaign director at the RSPCA, said:
Featuring brachycephalics at Crufts legitimises their exaggerated features and increases their popularity amongst the public. Sadly, 2023 showcases this yet again.
We completely understand why there is so much love out there for these breeds, but breeding for features which compromise their basic health and welfare is wrong.
We have launched our Save Our Breath campaign with the hope of educating people that these breeds can suffer for their looks. It concerns us that Crufts will further popularise such breeds and may lead people to buy one without knowing the true cost both to their dogs' lives and financially.
The Kennel Club has the power to inform real change and has an incredible influence. They get to decide what a Crufts 'winner' looks like, and by ending the involvement of French bulldogs, British bulldogs and pugs from competitions - until these breeds are returned to health - they can help protect future generations of these dogs.
More information on the Save Our Breath campaign is available online.