Elderly cat looks for home before 19th birthday
An elderly cat who has got a little wobbly in his old age is looking for a loving new home before celebrating his 19th birthday.
Wobbles, who will be 19 in July (or 92 in cat years!), arrived in our care in April when his previous owner moved into new accommodation and couldn't take him with them.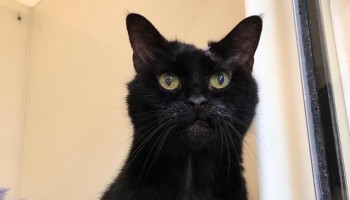 Staff at The Stubbington Ark, run by the RSPCA Solent branch, took him in from the Hampshire area and have been looking after him while he looks for a forever home.
Wobbles - currently 18 years and 10 months old - is looking for a calm and quiet home where he will be the only pet and can spend the rest of his life living in comfort.
Deputy manager Kirstie Blakeley said:
Wobbles is a true gent and a real favourite here at The Ark. He absolutely loves being around people and enjoys nothing more than being stroked. He gives you a head butt if you stop! He'll be 19 soon and we can't bear the thought of this lovely lad being homeless for such a big birthday. We really hope we can find him the purr-fect home in time for his celebrations.
"He's a chatty boy who likes to meow and purr, loves having a daily brush, and would love to live with someone who is around most of the time to spend quality time with him," Kirstie added.
Sadly, vets have found the early signs of renal failure so he is on a special diet to manage this and that will need to continue in his new home. He also had a lump removed from his head and is currently recovering from the surgery, as well as receiving medication for arthritis and his blood pressure.
Elderly pets can have ongoing medical conditions that need managing
"Any new owners will need to take the costs of his ongoing medication into account before taking Wobbles on," Kirstie added. "However, we believe he is worth every penny and that his new family will feel very lucky to have him.
"We've decided to reduce the adoption fee for Wobbles to just £25. Hopefully that will give his new owners more cash to spend on his medication from the offset.
"This gorgeous puss really deserves to find a wonderful new home where he can enjoy the love and attention he has been used to, and where he can live out his days without a care in the world!"
Find out more about Wobbles on his online profile or contact the team at The Ark for more information: enquiries@rspcasolent.org.uk.
---