RSPCA plea for help after a spike in hedgehog numbers
East Winch Wildlife Centre has had an influx of hedgehogs and is asking if the public can help them by donating dog food and newspapers.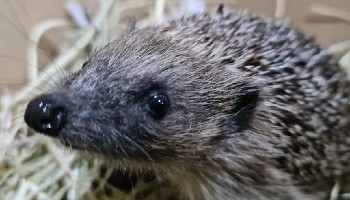 The RSPCA East Winch Wildlife Centre is caring for more than 140 hedgehogs and the number is growing by the day.
Most of the hedgehogs receiving care are young orphans and when they arrive they are usually cold, underweight, wobbly, dehydrated, collapsed and hungry.
So far the centre has over 140 hedgehogs in their care - but the numbers continue to increase daily and now centre manager Evangelos Achilleos is asking the people of Norfolk to help. He said:
We've seen a real influx of hedgehogs and hoglets in our care - and although they are small they can need as much care and attention as our larger patients.
They need regular feeding and as a result, we are asking if the public could donate tins of adult dog food (Pedigree) as well as old newspapers as we get through incredible amounts each week caring for our prickly friends. We also have a list of other items on our Amazon wishlist which all help in the care of our hoglets.
"The hedgehogs are being admitted for a whole host of reasons but most are predominantly orphans who are underweight or have been found out during the day - many are very malnourished.
"Nursing them back to health is a lengthy process and very time consuming but it's always worth it when you can return a hedgehog back to the wild where they belong."
If you find a sick hedgehog in the daytime we would advise animal lovers to please give it warmth, a hot water bottle wrapped in a towel is ideal and offer it pet food or a scrambled egg straight away and bring them to the centre. If a hedgehog gets too cold then their chances of recovery are reduced.
On arrival, a hoglet will be checked, weighed, given warmth either by a heat mat or a snuggle safe, food, antibiotics and fluids if dehydrated. As the hedgehogs gradually put on weight they move from the into individual holding bays and then finally into outside hedgehog huts. All the while they still require feeding, medical treatment and their beds cleaned out.
A staggering 23,000 hedgehogs have been cared for by staff and volunteers at the centre since it opened in 1992.
At this time of year, young hedgehogs might be seen out during the day if they were born later in the year and are trying to find more food to build up their fat reserves for winter hibernation. If you do see a hedgehog out during the day during cold weather this is usually a sign that the hedgehog is injured, ill or needs some help so please follow the detailed advice on the RSPCA's website. Evangelos added:
"Healthy hedgehogs weighing over 500g and only seen out at night should be left alone, but you can still provide supplementary food for them. If the weather is mild hedgehogs will naturally gain weight for hibernation and will be foraging for food overnight.
"If you want to help hedgehogs, you can put a bowl of dog or cat food out in your garden and help them gain weight for when the weather is cold enough for them to hibernate. Hedgehogs often wake up during hibernation when it is mild weather, forage for food and then go back to sleep once the temperature drops again."
Because the RSPCA receives so many calls about injured or trapped animals we have some useful tips to help keep hedgehogs safe in the garden. Please remember to remove sports and fruit netting, cover drains and holes, check before using a strimmer or mower, look in compost heaps before forking over and avoid using slug pellets as these are poisonous to hedgehogs.
More details on what to do if you find a sick, injured or orphaned hedgehog as well as how to help them in your garden, can be found on the RSPCA's website.
To report concerns about an animal contact the RSPCA's Hotline on 0300 1234 999.
Anyone wishing to support East Winch with their care of the hedgehogs can do so by either making a donation or by purchasing some of the items needed from their Amazon wishlist.
Items include:
Snuggle safe heat pads
Dry hedgehog food
Dog food in gravy and puppy food
Shavings used for bedding
Heat pads
Heat lamps
Other items needed are:
The delivery address is: RSPCA East Winch Wildlife Centre, Gayton Road, East Winch, King's Lynn, Norfolk, PE32 1LG.
Tips on keeping hedgehogs safe in the garden include:
If you are lighting a bonfire check inside the pile with a torch prior to lighting or move the bonfire to a new site then light
Remember to remove sports and fruit netting
Cover drains and holes
Check before using a strimmer or mower
Look in compost heaps before forking over
Avoid using slug pellets as these are poisonous to hedgehogs
To report concerns about an animal contact the RSPCA's Hotline on 0300 1234 999.
To help the RSPCA continue rescuing, rehabilitating and rehoming animals in desperate need of care please visit our website or call our donation line on 0300 123 8181.
---