Eurasian eagle owl found dumped in a box at roadside
We were called to rescue an Eurasian eagle owl which had been dumped in a box at the side of a road in Staffordshire and brought traffic to a halt.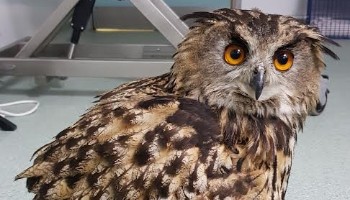 The bird of prey was spotted by a member of the public at the side of Enville Common Road, in Kinver. The owl was standing at the side of a box which had tipped over on its side and had a towel inside.
The man approached the owl, which seemed tame, but the bird hopped into a nearby field and appeared to have a damaged wing so the man called us for help.
Animal rescuer, Inspector Vicki Taylor was sent to the scene where Staffordshire police were in attendance and had closed the road while the large owl - which was about 75cms in length - was rescued.
Police called after owl stopped traffic
Vicki said:
The owl was about the size of a small dog and must have been left in the box which he escaped from. He then made his way into the road and caused traffic to stop so the police were called.
The owl was clearly not happy when I arrived, he hopped off into a hedge and was hissing and obviously scared. I managed to put a towel over him which allowed me to safely capture him.
We were concerned that the owl had a damaged wing which meant he could not fly but on close inspection he seems to have had his wing feathers cut on one side. This would have been done by his owner to stop him flying away.
His plumage was also a mess which would have been caused by him being kept in a box.
The owl had no ring on to identify who he belonged to, so I am appealing for information to find the owner of this bird of prey or anyone who may have seen something suspicious in the area around the time the bird was found.
Bird was left helpless
Vicki added:
"It seems someone took this majestic bird on and realised they were unable to cope with his specialist needs and simply dumped him at the side of a road, leaving him helpless."
The owl has now been transferred into the care of a specialist keeper where his feathers can grow back so he can once again fly.
Anyone with information about who dumped the bird, on Wednesday February 24, should call the our appeals line on 0300 123 8018.
---