Dumped newborn puppies find their forever home
A litter of newborn puppies was found dumped in woodland in Sheffield and have survived against the odds - and now have loving new homes.
The litter of five puppies - French-bulldog and Shih Tzu types - was found by a walker on 13 September. The two male and three female puppies were only hours old with their umbilical cords still attached and extremely vulnerable. They were rushed to a nearby Peak Vets, in Sheffield, where staff slowly warmed up their freezing bodies and were taken into the care of the RSPCA Sheffield branch.
RSPCA staff and volunteers had to hand-rear the puppies and were quick to help out by each fostering a pup. RSPCA deputy chief inspector Sara Jordan, launched the investigation to find the person responsible for abandoning the puppies and took one of the puppies to hand-rear, who she named Otter. Her colleague Inspector Leanne Booth took in his brother Lenni, while other volunteers took on sisters Lily, Bea and Clover.
Sadly, Clover died aged eight days old from suspected parvovirus. Lenni also contracted this deadly disease but survived against the odds thanks to the help of Nicole Shorto - a vet nurse based at Peak Vets in Sheffield.
Lily is still in the care of the RSPCA as she's in need of ongoing veterinary treatment while Bea was adopted by Tanesha Bower - a vet nurse at Peak vet who also hand-reared her.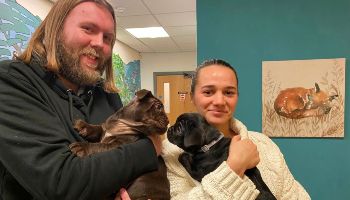 This week Lenni and brother Otter, who was 16 weeks old, met up with each other along with their hand-rear saviours and new owners at the Sheffield branch when they visited for a veterinary check-up.
Otter was with new owner Tom Buckley, who is a hub manager at the RSPCA call centre in Wath-on-Dearne, while Lenni was with his new mum, Ella Wright in Rotherham.
When I heard about Otter's plight I was keen to offer him a home it really is a miracle the pups survived. I knew Sara was feeding him every two hours through the night while carrying out her day job as an RSPCA inspector - it just shows the dedication and lengths staff go to to help animals in need.
Ella added:
I was told about Lenni and what had happened and was more than happy to adopt him - he's such a lovely pup. I'm very grateful for all the hard work the RSPCA have done to help this litter - they could have so easily died - but look how happy and strong they look now.
We're also supporting the RSPCA's Winter campaign which aims to raise money to help other abandoned pets like Otter and Lenny.
Sara said:
It really was touch and go whether these pups would survive but the vet staff was amazing, especially Nicole Shorto who was keen to support us at all times of the day or night.
There is always a big risk when hand-rearing puppies but without a mum, we were left with no choice and their immune system was compromised without their mum's antibodies from her milk. Some of the pups contracted the deadly disease parvovirus so also had to battle this - and sadly Clover didn't make it.
But the others are all little fighters and me and Leanne are so pleased to see them now in loving homes - it makes all the hard work worth it.
Times are tough at the moment and we understand that many families are struggling to cope, particularly given the rising cost of living, and we fear that we'll see many, many more pets being relinquished to charities or abandoned because their owners simply don't know where to turn.
But abandoning tiny puppies like this is so irresponsible and cruel. Please, please never abandon your pet but ask for help before things get so desperate.
Just weeks earlier Sara had also hand-reared another puppy found dumped which was among a litter of 11 who were rescued from a wooded area off Heath Lane, Huddersfield.
In this case, the finders rushed them to a local vet who checked them all over and estimated that they were just a few hours old and found that they still had their umbilical cords attached. The pup Sara called Tippy was the only one to survive and has also now found her forever home in Huddersfield, West Yorkshire. In both cases, the person who is responsible for abandoning the litter has not been traced.
Sadly, this kind of abandonment is on the increase and the RSPCA has seen a shocking 25% rise in the number of abandonment incidents along with a 13% rise in neglect incidents being dealt with by rescue teams.
The RSPCA's most recent figures show that to October 2022, RSPCA rescuers dealt with 13,159 incidents of abandonment. This has risen from 10,519 for the same time period the previous year.
The incidents of neglect being dealt with by teams have also risen, with 30,500 by the end of October 2022, compared to 27,521 over the same period in 2021.
The animal rescue charity believes the cost of living crisis is leading to more people dumping or neglecting their pets and fears this will become much worse. In response, they have launched their campaign to help raise funds so they can continue their vital work.
For pet owners who are worried about the cost of living crisis, the RSPCA has a dedicated Cost of Living Hub with practical help and advice on the website.
---