Dog who couldn't walk now loves to run
A dog who couldn't walk unaided after the muscles in her legs wasted away due to years shut inside a cage has learned how to walk again and now loves to run and play football with her new family.
When 10-year-old Staffordshire bull terrier Hippo arrived at our Cornwall branch in January, staff were reduced to tears by the pitiful state of the little dog.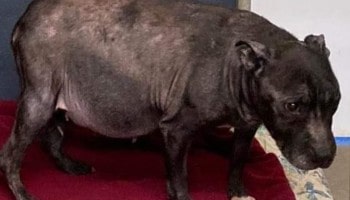 An inspector had been called to a home by members of the public who were concerned about the welfare of a dog inside - but no one was prepared for what they were about to see.
A spokesperson from the Cornwall branch, who took Hippo in, said: "Hippo had been kept isolated in a small crate for years. She was seized by police and brought straight into us.
"Multiple tears were shed as we watched her struggle. The muscle in her rear legs had completely wasted away, she had to be supported to help her walk and she looked heavily pregnant due to being so bloated because of malnutrition.
"She was suffering from arthritis, was completely emaciated, and had a serious luxating patella (or dislocated knee). Most of her hair had fallen out and she was suffering from cushing diseases, as a result of the stress. The vet suspected she'd been like this for years. It was absolutely heartbreaking to see the state she was in."
She couldn't even walk but now she loves to run at the beach
She received emergency vet care and a wonderful fosterer came forward to help her. Today, Hippo looks like a different dog. She's much more mobile and now loves to run at the beach and play football in the park with her foster family who have now decided to adopt her! Her fur is growing back, her cushing's disease is being managed and she's finally living a life free of stress and pain.
"We all fell completely in love with Hippo, not her real name but what we all affectionately came to call her due to her hippo-like appearance!" the spokesperson added.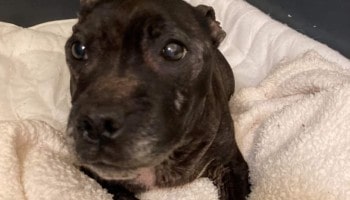 "When she was with us she was shy but affectionate, now her new family said she demands attention and is quite sassy! She loves to feel the sand between her paws at the beach, enjoys playing with other dogs, and gets cuddles whenever she wants.
"Considering what she experienced, she is the most forgiving dog. While we all cried when we first met her, we cried even harder when we saw how much she has improved and when we found out that she's found her forever home and will never have to feel frightened or unloved ever again."
---