Dog lover takes on marathon challenge to help animals in need
A dog lover from Richmond upon Thames will be taking on the marathon challenge to raise money for the RSPCA.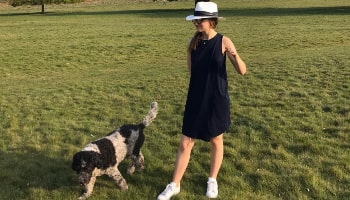 Emma Christine Davies from Richmond upon Thames will be donning her running shoes this September and taking part in her first official marathon.
The 21-year-old explained that she found running helps her mental health which was why she decided to sign-up to the 26.2 mile challenge.
She said:
I've always found that running gives me a lot of mental clarity. I've suffered with an eating disorder so I wanted to get out of that headspace and really push myself to do something positive. It was a scary thing to do to sign up to the marathon, especially considering before I wasn't even able to run 5km nevermind 42km! I'd start and stop marathon training in the past and knew I just needed to sign up to one and then I would have to stick to it. I wanted to find a cause I really care about and as a dog lover, I knew it would be the RSPCA!
Emma has suffered from binge eating and other forms of disordered eating, but found that running, her wonderful friends and family, as well as her dog Smudge, a nine-year-old Spanish Water Dog, helps to keep her on track. Many people champion running, as well as pets, for helping their mental health and this has been the same for Emma.
The Universities of Lincoln and York carried out a fascinating study* this year, which found that having a pet helped people maintain better mental health during lockdown. More than 90% of the 6,000 participants said their pet had helped them cope emotionally during lockdown.
She added:
I'm a massive dog lover and I love all animals and I think the RSPCA does a lot of good work helping them. Animals are such beautiful creatures and we really should be looking up to them and looking after them. Smudge is my first dog and since getting him I've been amazed at how close I've got to him. We¿re so close, I didn't realise it was going to be like that. It also makes you realise that whilst Smudge has a nice home with me, there are plenty of dogs who don¿t have anything at all before they are rescued which is why I wanted to support the RSPCA.
Emma was originally signed up to do the marathon in 2020 but the pandemic postponed the event twice until later this year. However, she did decide to take on the challenge in London on the day that would have been the Brighton Marathon.
She said:
I did actually run the marathon distance on the day it should have been. I wanted to see if I could do it and I did, so that was good! I¿m now looking forward to September and the atmosphere of the real marathon! I also love running by the sea which was why I wanted to do the Brighton Marathon, as well as my boyfriend, Ben, living there.
Emma studies fashion management at Richmond, The American International University in London and also works for a music technology company. She spends her time between Stockholm, London and Brighton.
You can help support Emma's cause on her JustGiving page.
Brighton Marathon
Over 12,000 runners take part in the marathon, enjoying a course that starts in Preston Park at 9.45am, snakes its way through the city centre, along the glorious seafront and finishes at the iconic Madeira Drive in front of thousands of cheering spectators.
It is the second largest marathon in the UK and the eighth-largest in Europe.
Since the first event in 2010, the Brighton Marathon has grown dramatically to become the Brighton Marathon Weekend attracting larger numbers of runners and spectators each year to the city.
This year, Brighton Marathon will be taking place on Sunday, September 12, 2021.
It costs just £30 to sign-up with a fundraising pledge of £400.
If you're interested in taking part in Brighton Marathon for Team Animal, take a look at our challenges and sign up today.
---