Dog found clinging to life with "horrific" machete wound in Liverpool street is doing well in our care
Dog found clinging to life with "horrific" machete wound in Liverpool street is doing well in our care
A dog, which was found collapsed and clinging to life with a horrific machete wound to the side of her head in Liverpool, is making a remarkable recovery in our care.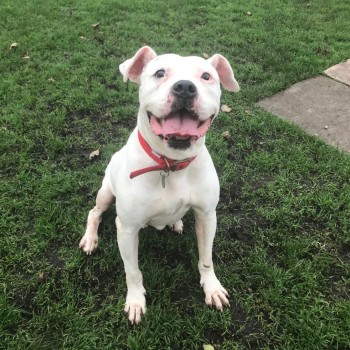 Ruby, a friendly American Bulldog, was found severely injured in Priory Road, Anfield, near Stanley Park, on Thursday, October 11 by a passing motorist.
She had blood pouring from a huge gash in the side of her head which had almost severed her ear off.
The kind-hearted man rushed the dog to PDSA in Kirkdale for emergency treatment and she was later transferred into our care where she's making a good recovery from her injuries.
Ruby's owner was traced through her microchip and he said his pet ran off from her home at 12.30am on the day she was found with horrific machete injuries.
He has now signed over Ruby into our care where she'll recover from her ordeal before she's found a new home.
We need more information to find who is responsible
Our animal rescuer Rachel Henderson was sent to investigate and says she's still appealing for information to find the person responsible.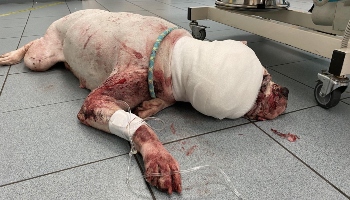 She said:
"It's clear Ruby was attacked with a machete in what can only be described as a vile incident.
"I have no idea why she was subjected to this horrific attack and believe she was injured shortly before she was found at around 9.30am. Ruby is such a lovely and friendly dog but this terrifying attack must have caused her a lot of pain and suffering.
"We have had little information from our original appeal so I would ask people to cast their mind back to see if they can remember anything which may help me trace the person responsible."
Anyone with information about the incident should call our appeal line on 0300 123 8018.
To help us continue rescuing, rehabilitating and rehoming animals in desperate need of care please donate online or call our donation line on 0300 123 8181.