RSPCA dismay as targets for killing badgers are increased despite government pledge to stop
The RSPCA has said it is dismayed at the Government's decision to expand the badger cull by issuing licences to seven new parts of England despite recently pledging to phase out culling.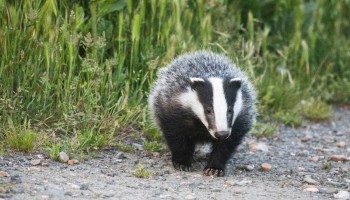 According to the animal charity, up to 75,930 badgers could be shot this year in the continuing flawed attempt to prevent the spread of bovine TB. The new licences will result in badger culling being permitted in zones in Hampshire, Berkshire, Staffordshire, Worcestershire, Oxfordshire and two parts of Shropshire.
The devastating news comes despite the Westminster Government making a commitment to move away from culling badgers in favour of vaccinating and to develop more cattle based measures such as a more sophisticated TB testing regime.
Adam Grogan, head of the RSPCA's wildlife department, said:
We are completely dismayed that the Government is insisting on persisting with its inhumane and ineffective badger cull despite its commitment to 'government-supported badger vaccination and surveillance'.
It is appalling news that the cull is to be extended to another seven regions, given the Government's welcome announcement earlier this year that it would move away from culling towards badger vaccination, the development of cattle vaccination, more frequent and improved cattle testing, better management of cattle movements and incentives to improve biosecurity.
Vaccination of cattle and badgers is key. Vaccination of cattle started this summer in a groundbreaking trial and inoculating badgers can reduce prevalence of the disease in those animals. Data from Wales implies that it may have had an impact in reducing cattle herd prevalence as well.
There should also be an increased focus on management measures to better control bovine TB in cattle. Vets have told us that they want more information and training specifically on bovine TB so they can help their clients manage it better - and the BVA agrees. Some schemes do already exist but we believe the government should incentivise uptake of these by making it a provision of any bovine TB management plan.
The RSPCA's 2019 report Bovine TB: Not Everything is Black and White included a number of recommendations on how the management of bovine TB could be improved. The RSPCA then carried out a consultation of farmers and vets about their opinions of the recommendations in the report.
The report on the consultation, Ruminations on bovine TB, shows there is a need for Government to support badger vaccination programmes in order to build an evidence base to show the effectiveness of vaccines in decreasing bTB in cattle; with little current evidence, many respondents did not think that badger vaccination could be an effective measure. Respondents also supported providing better tools to vets and farmers to deal with the disease, such as specific training for vets on bovine TB and better incentives to develop herd health management plans.
Adam Grogan added:
Bovine TB is a devastating disease for farmers because they see their cattle destroyed and their business restricted. However, scientific evidence shows that badgers avoid cattle where possible and indicates that the role they play in spreading bovine TB is vastly overestimated.
Culling badgers is not the answer and it's high time this policy was scrapped. It has been cruel and ineffective and we have been calling for some time for an alternative strategy to control bovine TB that focuses on cattle which includes proper herd health plans, vaccination and improved testing.
We are calling on the Government in England to fast track its proposed improvements to cattle based measures, along with badger vaccination, which will be the best solution for badgers, cattle and farmers.
---