Dewi and Owain search for new forever homes this St David's Day
Will today be the day for rescue guinea pigs Dewi and Owain to find their forever homes?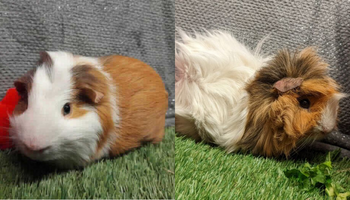 Dashing Dewi and the adorable Owain - who are currently at RSPCA's Newport Animal Centre - are seeking a second chance at happiness, as people across Wales and beyond mark the day of the patron saint of Wales.
Kath Logan, deputy centre manager, said:
As people all across the country celebrate St David's Day, we really hope Owain and Dewi will catch the eye of the perfect prospective owners - and ensure yet more happy endings for the RSPCA.
Rescue animals can be such rewarding companions – and we'd urge anyone able and willing to add a pet to their family to visit find a pet to find out more about the animals looking for their forever homes.
Kath said the duo - although can be nervous and will need plenty of socialising - will make great family pets. As single neutered males, staff are looking for homes for them both and to be integrated into a female group of guinea pigs so they have companionship. Dewi and Owain came into the care of the RSPCA as their welfare needs were not being met.
Dewi is a lovely little boy but very shy. He will need a nice big hutch or cage with multiple places to sleep, hide and play.
Owain will also benefit from a large pen or hutch with lots of hiding spaces to sleep and enough room to explore and run around.
They all love hearing the rustle of vegetable bags in the morning and you will often hear them squeal with excitement.
If you are interested in adopting Dewi or Owain - please get in touch with the animal centre or you can fill out a perfect match form online.
The RSPCA is providing dedicated cost-of-living support for worried pet owners, with a recently-opened telephone helpline on 0300 123 0650 and an online hub, which has lots of practical tips and advice, including details of pet food bank schemes.
Kath added:
Due to the cost of living crisis and other factors, we are full to bursting and we always have pets waiting to come in so we can rehabilitate and rehome them.
Rehoming has really slowed down at the moment, so if you are considering and able to take on a pet, please consider rehoming a rescue animal instead of buying.
---