RSPCA delight as ban on 'cruel' glue traps is step closer
Proposals to bring in a ban on the use of glue traps have been welcomed by the RSPCA as they reveal they have been called to hundreds of incidents involving the sticky traps over the last five years.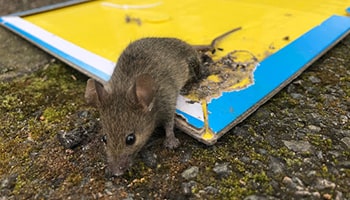 Today a Private Member's Bill was introduced calling for a ban on the use of these traps. The Bill has the backing of the Government.
The RSPCA received 236 reports of glue trap incidents to its cruelty line from 2016 to 2020 involving animals including cats, garden birds, hedgehogs, squirrels and even a parrot.
Glue traps, also known as 'glue boards' or 'sticky boards', consist of a sheet of plastic, cardboard or wood coated with non-drying adhesive designed to trap rodents such as mice and rats as they cross the board.
Glue traps are a danger to unintended animals too
Chris Sherwood, Chief Executive of the RSPCA, said:
"We're absolutely delighted to see the first steps towards a ban of torturous glue traps which cause such suffering and misery to animals.
"Our frontline rescuers and hospital staff are sickened by the horrific injuries animals suffer as they struggle to free themselves.
"Mice and rats are the main victims but other animals such as snakes, robins, owls and even kittens and cats maimed or fatally injured because of these awful traps."
The RSPCA opposes the manufacture, sale and use of glue-traps because of the unnecessary suffering they cause to animals. They are also completely indiscriminate in which animals they trap so they pose a danger not only to the rodents they are intended to catch, but to other wild animals and pets too.
Bill proposing a ban on the use of glue traps
Jane Stevenson, MP for Wolverhampton North East - today laid the Private Member's Bill proposing a ban on the use of glue traps.
Chris added:
"We applaud MP, Jane Stevenson in her mission to ban these traps and are pleased to see this bill has Government support. We believe the public want to see traps like this banned and hope this bill progresses through parliament quickly so we can consign glue traps to the history books for good."
Fixed penalty notices for some animal welfare offences
Andrew Rosindell, MP for Romford, also introduced a Government backed Private Member's Bill to introduce fines of up to £5,000 for some animal welfare offences.
Chris added:
"Fixed penalty notices are really useful to quickly combat suffering of farmed animals, horses and animals kept in zoos.
"We are pleased that enforcement bodies will be given powers and revenue from these fines in order to safeguard animal welfare should this bill become law.
"We hope these enforcement notices will serve as a good deterrent to those causing suffering to animals and also an important education tool to prevent them repeating their mistakes in the future.
"These penalties, used in conjunction with tougher sentences which are coming into force soon, will provide better safeguards for all animals."
Proposal for a hare coursing bill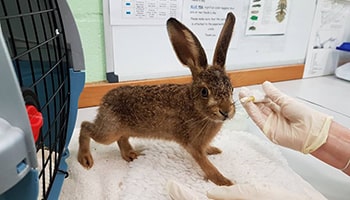 And in a bumper day for animal welfare legislation Richard Fuller, MP for North East Bedfordshire, introduced a Private Member's Bill to tackle hare coursing - a barbaric practice not only causing suffering to the hares themselves but also the dogs - normally lurcher-types - which are used to hunt down the iconic wild animals and can be very badly-treated by their owners.
Warmly welcomed by the RSPCA, the hare coursing bill proposes increased powers for the police and more severe penalties for those involved in this cruel activity.
Animals caught in glue traps
The announcements come as the charity reflects back on just some of the incidents they have seen where animals have been maimed or killed by these indiscriminate glue traps.
Two robins trapped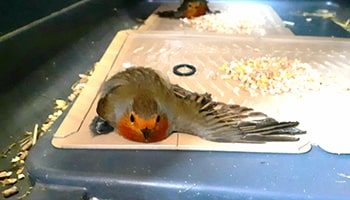 In March (2021), two robins were rushed to the RSPCA Oak & Furrows wildlife centre in Cricklade after being found stuck on a glue trap in Lydiard Millicent in Swindon.
Staff at the centre were able to remove the robins from the trap using coconut oil and butter - but sadly both birds died following their shocking ordeal.
Rodney the feral kitten
A little kitten who had become stuck on a glue trap at a farm in Norfolk had to be rescued by the RSPCA in July (2020).
The little ginger kitten who has been named Rodney was found stuck on a glue trap was freed by a farmer who then contacted the RSPCA.
Inspector Emily Astillberry collected the kitten and took him to Companion Care Longwater branch in Norwich who then set about removing the glue from all his fur.
She said:
"This poor boy was most likely a feral cat and only about five weeks old so really too young to be without his mum. He was thin and lethargic and clearly distressed by what had happened to him.
"The staff at the vets were amazing and spent all day gently washing and shaving away his glued fur. He had been stuck on the trap on his left-hand side and his left ear and tail had taken the brunt of the sticky damage.
"We named him Rodney and I am currently caring for him with my family. He's such a lovely boy and has certainly bounced back now, following his ordeal.
"Luckily Rodney did not have any lasting injuries - but had he not been found he could have suffered a very long and painful death."
If anyone finds an animal in a glue trap please seek veterinary treatment as soon as possible or call our hotline 0300 1234999.
To help the RSPCA continue rescuing, rehabilitating and rehoming animals in desperate need of care please donate online or call our donation line on 0300 123 8181.
---