The dark side of the puppy trade: Nine dead pups dumped on verge
We've launched an investigation after the bodies of nine puppies were found dumped on a verge in Buckinghamshire.
We were called by a passerby who discovered the pups dumped on the side of the road in Berwick Road, Marlow, on 18 December.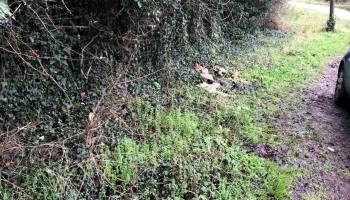 Our deputy chief inspector Becky Timberlake went to the scene. She said:
"The puppies are all aged around eight-weeks-old so were no doubt destined for the Christmas market. I suspect they've come from a nearby puppy farm as there were three separate litters dumped together. Most were microchipped but they weren't registered to any owners.
"It's not clear why the pups died but parvovirus is rife among poorly bred puppy-farmed dogs and dealers don't seek veterinary help as they don't want to arouse suspicion or spend money which will impact on their profits.
"They'd rather leave puppies to suffer, grow weaker and sicker, and, eventually, die than to spend money on getting them help. And they then discard them like rubbish at the side of the road. It's disgusting; these were living, breathing puppies who deserved so much better."
There was a mix of breeds - lurcher types and terrier types - and three were wearing collars but none had ID tags. There were no obvious injuries so it's suspected they died from a virus or infection.
We're asking the public to assist with the investigation
Police were also called to the scene and we've now launched an investigation.
Becky added:
We're appealing to the public to help us track down whoever is responsible for dumping these puppies here and we fear there may be other puppies suffering who need our help. If you saw anything suspicious in the area on Friday or overnight on Thursday please call our appeal line on 0300 123 8018. We believe the puppies died between 24 and 48 hours before they were found.
The discovery was made just 11 miles from a similar find in November 2017, when the bodies of six puppies were found abandoned in a layby off the junction of Amersham Road and Bottrells Lane in Coleshill, Amersham. The pups - three Labrador types, one Chihuahua, one Jack Russell terrier and another terrier - are believed to have been 'waste' from a nearby breeder trying to cash in during the run-up to Christmas.
This happens more than you'd like to think
A similar discovery was also made in February 2016 when nine puppies' bodies were found in Hogg End Lane, St Albans, Hertfordshire. The following month, two more dead puppies were found in the same spot. In March 2017, the bodies of four newborn pups were found dumped in a carrier bag nearby, in Three Cherry Trees Lane, Hemel Hempstead.
Becky added:
Every year there's a surge in demand for puppies in the run-up to Christmas. People think of a cute, fluffy puppy with a bow around its neck under the tree, but this is the reality of where your puppy may have come from; this is the dark side of the Christmas puppy market.
We've been fighting the puppy trade for years and was integral in bringing in tougher regulations around breeding and selling in England. We recently launched a new campaign called #ForPupsSake to crackdown on puppy imports, which are still fuelling the illicit trade.
---