Dachshund puppies cared for over Christmas have now found their forever homes
A litter of nine dachshund puppies and their mum, which we cared for last Christmas, have now landed on their paws in their forever homes.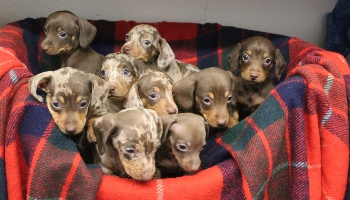 Olive and her puppies came into the care of our Halifax, Huddersfield, Bradford and District branch in the run up to Christmas last year. The staff believed the nine three-week-old puppies had been bred for sale as Christmas presents.
Each puppy was named after one of Santa's reindeer's Dasher, Dancer, Prancer, Vixen, Comet, Cupid, Donner, Blitzen and Rudolf. The litter needed round-the-clock care and the branch was inundated with applications to rehome them.
In January, the puppies and their mum were finally rehomed and will be spending their first Christmas in their new homes this year.
Rudolph now has a new loving family
Rudolph, now named Arthur was rehomed to the Hunt family in Sheffield, South Yorkshire. The family were one of the first to go and view the mum and puppies.
Mrs Hunt said:
They all came skidding out of the kennels with their mum Olive - it was hilarious! Arthur came out and started chewing on my daughter's shoe laces and then just curled up on her knee and wouldn¿t move. We thought we'd quite like one of the chocolate ones but then Arthur pushed the chocolate ones away and refused to leave my daughter's lap. So he chose us! He's so adored, we love him to bits.
They had never had a dog before but they'd known they wanted to bring a pooch into their lives for a while.
She added:
"We'd always said we wanted a dog and my husband said he really wanted a sausage dog then one night we saw this post on the RSPCA Halifax Facebook page. Then I sent in an application. I didn't actually tell my husband at first! It wasn't until I had an email back that I told him. We just fell in love with them but to be honest neither of us thought we would be accepted. We'd seen them on Look North and knew the RSPCA must have been inundated with offers.
¿When I got the email to say we had been accepted - I burst into tears I was so happy!
"He's so funny and loving. He loves his toys and tearing them to shreds, he loves walks in the park and he loves his grandad - he goes berserk when he sees him! How much we love him is just off the scale, he's like my third child."
Cupid has made friends in her new home with a hen and a cat
Cupid, now called Betsy, was rehomed to Christine Allen in Glossop in Derbyshire.
Christine has had dogs all her life and fell in love with Betsy as soon as she saw her.
Christine said:
"She's the best thing in the whole world. I still can't believe how lucky I was. I'd circled her in the group picture of all the puppies and I was so surprised that she was still there. I love her to bits!
"She's such a lovely dog and so well socialised, she loves everybody and everything, absolutely nothing phases her, which is a credit to the staff at RSPCA Halifax. She's quite independent and will happily play on her own in the garden but she also loves being with people, she can be so nosey!"
Betsy's best friend is their pet hen and the clever dog knows to "socially distance" with Christine's cat Tinker Bell.
Vixen joins two other dachshunds in her new home
Vixen, now named Luna, was rehomed to Paige and Andrew Crofts in Swadlincote in South Derbyshire.
Luna joined their other dachshunds Rebel and Wilson to make the perfect trio.
Paige said:
"Luna settled in absolutely fine. She's such a good girl. She's now inseparable with Rebel and Wilson. I bought them all their own dog bed but they always sleep in the same bed.
"She's a cutie and loves attention, she will quite happily sit with the person who gives her the most attention and treats!"
As well as Rebel and Wilson, Luna also shares the garden with three ducks which the Croft family welcomed into their life during lockdown.
Dancer now named Monty was rehomed to Louise Hollowell in Birkenhead and her family.
Louise said:
"Monty has settled in really well. It has taken lots of time, hard work and training but he's been part of the family from day one so it's all been worth it. Luckily our training was one to one so we could pretty much train throughout lockdown. Monty has thrived during lockdown but I must admit he does try to follow the kids into school now they're back! He has an extremely close relationship with my children, George, 11, and Grace, eight, and he's very loved.
"He loves the beach and he¿s also a great running partner. We even recently completed our first mountain climb, well technically it was a big hill (Moel Famau) but we're aiming for Snowdon next!
"He's such a character and we can't imagine life without him."
We rehomed all nine puppies and mum Olive and they'll be spending their first Christmas in their new homes.
Donating just £25 could help keep our Animal Rescue Teams on the road. This winter, we expect to rescue thousands of animals from neglect, cruelty and suffering. To help our rescue teams reach the thousands of animals who desperately need us, Join the Christmas Rescue.
---