Cruel summer: RSPCA warns animals in danger as calls about cruelty rise
The RSPCA has launched a campaign to 'Cancel Out Cruelty' as figures show that the animal welfare charity has received almost 100,000 reports of intentional harm to animals over the past five years.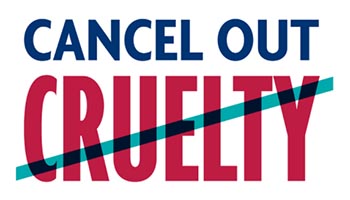 The animal welfare charity has revealed that July is their busiest month for investigating cruelty and animal rescuers are bracing themselves for another busy season saving animals from harm as the number of calls increases across the summer period.
Last July (2020) they dealt with a spike in intentional cruelty as 1,532 incidents were called through to their emergency helpline.
Dermot Murphy, RSPCA Chief Inspectorate Officer, said:
It is incredibly worrying that still in 2021 we are seeing this high level of cruelty towards animals - which rises in the summer every year.
We have seen dogs that have been beaten and burnt, cats that have been thrown across the room and punched, wildlife that has been attacked and even a case where a cat was put in an oven. Thankfully the majority of right-thinking people would find this kind of violence towards an animal unimaginable - but it still goes on and it is something the RSPCA is regularly investigating.
The RSPCA is the only charity in England and Wales which is on the frontline rescuing animals from harm. Without our team of inspectors, many of these animals would remain in homes where they are scared and suffering, or die painful deaths without the help they need.
Sadly, we always see a rise in cruelty during the summer months. There are any number of reasons as to why this is happening but we suspect part of it is down to more people being out and about in the longer sunny days, seeing and reporting abuse.
Unfortunately, the hot summer days can lead to more people drinking alcohol in the sun which can be a factor in causing violence. Long summer holidays can lead to boredom and also could lead to more pressures at home; when the whole family is on holiday from school and work, existing difficulties in the home can be magnified. During these summer months, calls to our cruelty line rise, putting more pressure on our already stretched frontline rescue teams.
Police forces reported a rise in domestic violence last year during lockdown and we are concerned that similar pressures which led to this rise may also have impacted on more cruelty to animals behind closed doors during the pandemic.
The past year has seen a reportedly huge rise in pet ownership and we know most people would not dream of harming an animal. However, we are concerned that, as we come out of lockdown and people return to their jobs outside the home or suffer financial pressures, we will see more animals suffer if their owners find themselves unable to cope.
We are urging people to support our campaign to Cancel Out Cruelty so we can all work together to end cruelty towards animals.
We urge anyone who wants to report animal cruelty to us to call our hotline on 0300 1234 999.
Cancel out cruelty
The charity's Cancel Out Cruelty campaign aims to help fund the frontline rescue work the RSPCA carries out every single day - helping animals that have been through trauma - rescue them, get them to a place of safety and rehabilitate them.
The RSPCA's rescue teams need support to stay out on the frontline as the only charity rescuing animals and investigating cruelty.
£6 could help pay to feed a dog for a day in our care
£10 could help pay towards bandages for a cat or dog
£15 could help pay for a cat or dog's clinical exam
£20 could help pay towards a bird catching kit
£30 could help pay for a life jacket for an inspector
£100 could help pay towards water rescue equipment
£500 could kit out a 4x4 inspector van
Donate to the Cancel Out Cruelty campaign and help us continue to rescue animals in need.
You can also help Cancel Out Cruelty by volunteering for us, becoming a campaigner to help us change the law for animals for the better, by becoming a fundraiser for the RSPCA, by learning more about animals through our Compassionate Families programme, buying a Cancel Out Cruelty T-shirt and showing it off on social media, or by pledging to help animals in other ways, such as learning more about your pets' needs, or learning how to help wildlife.
---