Councillor hopefuls urged to 'prioritise animal welfare'
Council candidates across England have been urged to "prioritise animal welfare" - to ensure the cost of living crisis doesn't have catastrophic consequences for the nation's pets, with less than 30 days to go until local elections in large parts of the country.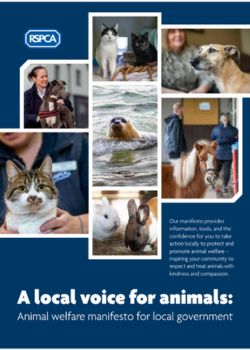 The call comes as the RSPCA launches its new local government manifesto - ahead of the elections in England on May 4.
Local government plays a key role in animal welfare - and the RSPCA works closely with Councils on issues such as enforcement, licensing, kennelling, stray dog provision, and more.
Across large parts of England, on 4 May, more than 8,000 local government seats will be contested within 230 Council areas - with the thousands of politicians elected at the ballot box in a "unique position" to "transform the lives of animals".
Sadly, RSPCA officers are seeing the impact of the cost of living crisis on the frontline - with more people abandoning animals, more animals coming into the charity's care, and rehoming slowing as financial pressures bite; so their work with Councils is more important than ever.
The election comes at a busy time for RSPCA officers on the frontline. In 2022, the charity investigated and closed 63,563 complaints of alleged cruelty across England and Wales - a whopping increase of 23.4% on the previous year; and problems continue in 2023.
In February alone, 1,324 incidents of animal abandonment were reported to the animal rescue charity - compared to 1,226 for the same month last year, a rise of eight percent - with cost of living pressures believed to be a major factor.
Lee Gingell, the RSPCA's public affairs manager for local government, said:
Local authorities are responsible for enforcing many animal welfare laws, and stand with us on the frontline for animals.
Sadly, levels of animal neglect remain very high - and the cost of living crisis is the single biggest challenge for animal welfare right now. Ahead of the elections in May, pet owners and their animals across England face such a tough time.
But new Councils and Councillors elected in May will be in a unique position to transform the lives of animals.
From promoting resources like the RSPCA cost of living hub to residents to protecting the welfare of pets of people who are hospitalised, and prioritising support packages that keep pets in their homes with loving owners during the crisis, there's so much we hope local authorities will do in these unprecedented times.
The RSPCA manifesto - 'A local voice for animals' - urges political parties and candidates to support a number of policies ahead of the election, including those aimed at:
Improving animal welfare enforcement
Protecting the vulnerable when they need help – and their pets
Stopping exploiting animals for our entertainment
Celebrating local authorities who go above and beyond
In many parts of England, Councils have already taken the lead by restricting activities which can prove detrimental to animal welfare - including the irresponsible use of fireworks, the giving of pets as prizes, and the release of sky lanterns on public land.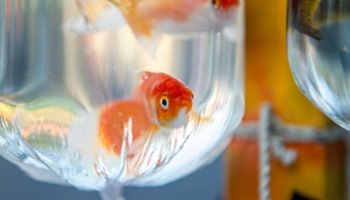 Countless animals find fireworks scary. Owners will often see their pets struggling, either frozen with fear or, in the most dangerous circumstances - bolting, rearing up or charging fences; while sky lanterns continue to pose a risk to animals of injury, suffering and death, through ingestion, entanglement and entrapment.
Meanwhile, in much of England, no rules prevent goldfish from being held in unsuitable plastic bags for long durations and taken to homes that aren't adequately prepared to meet their welfare needs.
Lee added:
It's 2023, and we pride ourselves on being a nation of animal lovers. Yet we're still seeing the cruel and outdated practice of pets being dished out as prizes on public land.
Many people also still let off sky lanterns – causing possible harm and suffering to animals and damaging our natural world; while the irresponsible use of super-loud fireworks often goes unchecked; to the great distress of many pets and their owners.
But many Councils have already taken the lead to enact local change - and we urge those standing for election in May to support RSPCA proposals for localised bans on the giving of pets as prizes, the irresponsible use of fireworks, and the release of sky lanterns on public land.
Local government enforcement, licensing and regulation are key in delivering high animal welfare standards - from providing statutory stray dog services to licensing dog breeding establishments.
However, in the tough financial climate, many Councils are struggling to deliver services - and have had to cut back in the face of serious economic challenges and resort to offering bare minimum services.
We know new Councils elected in May will have to make some really difficult decisions.
But protecting funding of animal welfare services will be so important in keeping animals safe, upholding local standards and preventing criminality.
We're also urging Councils to look at the potential for shared and pooled services - combining resources and expertise to tackle the illicit puppy trade, improve animal welfare enforcement and reduce animal cruelty.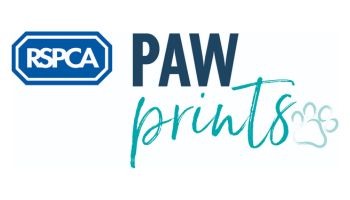 The RSPCA celebrates local authorities going above and beyond through its annual PawPrints scheme - and looks forward to continuing to work with Councils and celebrate the work they do for animals, after May's elections.
Lee added:
The RSPCA works with Councillors from all political parties, and independents, to secure a better deal for animals.
Even in these difficult times, we achieve so much together for animal welfare.
Our PawPrints scheme celebrates those public bodies who go above and beyond for animals - and we hope licensing, dog warden, contingency planning and housing teams at Councils continue to gain unique recognition for their efforts for animals and promote these services to the people and animals they represent.
More information on the local government manifesto, and the RSPCA's policy proposals, can be found on our Political Animal website.