Could you help 14 rescue piggies go wee wee wee all the way to a new home?
We've rescued fourteen pigs of all shapes, sizes and breeds, who are looking for new homes - could you offer the perfect piggy paradise?
From pot bellies to Kunekune, and even a mother and daughter large white pair, more than a dozen pigs are currently in need of loving new homes. Looking after pigs is no mean feat but for those with the time and expertise, these piggies pals could be the perfect addition!
Pigs looking for new digs
Bailey, Brandy and Tilly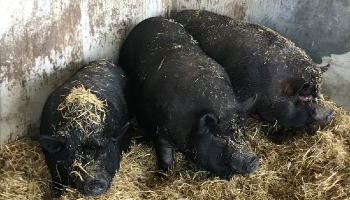 Bailey, Brandy and Tilly would like to find a home together as a trio. These three little piggies sadly found themselves in our care due to not having their welfare needs met. They're currently wallowing at a foster home in Derby but are patiently waiting for a more permanent pigsty to call their own.
They're the best of friends and would ideally like to be rehomed together. Tilly is around 4 years old and is quite shy. Both Brandy and Bailey are around 18 months old and have been castrated. They're all friendly pigs and love their food!
For more details, please contact our team at Southridge Animal Centre in Potters Bar, Hertfordshire.
A pig quartet
Kunekune pig quartet - Thelma, Winifred, Flower and Louie - are waiting to be rehomed from Stubbington Ark in Fareham, Hampshire. Winifred is the smaller one and is definitely the boss! She also loves her belly being rubbed. Flower loves her food. Thelma is a little shy but is growing in confidence every day and enjoys a good lie-in. Meanwhile, the only chap in the group, Louie, loves a bit of digging to find yummy grass roots.
Boris the pig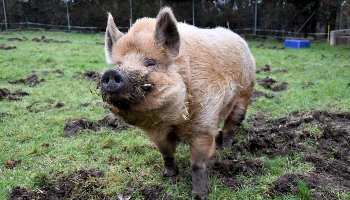 Piggy Boris is being cared for at our West Hatch Animal Centre in Taunton, Somerset. Boris found himself in our care as a stray way back in November 2018! He's patiently been waiting for his home ever since, and we're hoping someone out there has room in their home and heart for him.
He's full of character, being a friendly and chatty boy who always comes over to say hello. However, he does have a naughty side and may push and nip at your legs for attention (or food!). He's rather lonely without the company of other pigs here so he's looking for a home with one or more sows and a good sized paddock for him to enjoy natural rooting behaviour.
Piggy pair Petunia and Wilbur
Petunia and Wilbur are a fine pot bellied piggy pair who are looking for a new home together. Both are around three years old and friendly. Petunia has a lovely kind temperament, whilst Wilbur always looks forward to his meals!
Friendly Florence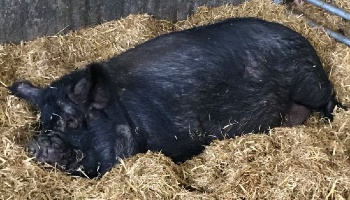 Florence is around 3 to 4 years old and has a lovely temperament. She's very friendly and loves attention and her food. Florence is short-sighted and can only see about 3 to 4 feet in front of her. She would make a lovely pet and would really love to find her new forever home.
Bunty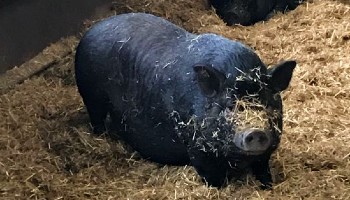 Bunty is a younger female and is very healthy and active, she mixes well with all the other pigs and is very friendly.
Peppa the pig and Penelope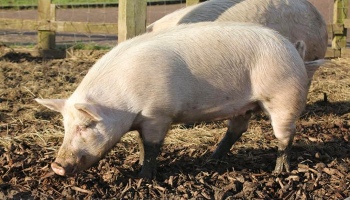 Pigs Penelope and Peppa the pig are a Mum and daughter duo that have been in our care at Southridge since June 2015, and so staff are keen to see them settle into forever homes. A very unique pig, Penelope only has one ear as she was picked on so much by other pigs before she was rescued as she tried to defend her babies. Two of her other 'piglets' were adopted several years ago, leaving Penelope and daughter Peppa still waiting for their forever homes.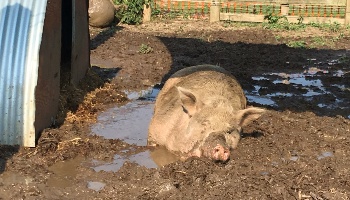 Pigs are harder for us to rehome
Farm animals such as pigs are not as straightforward to rehome as domestic pets like cats and dogs as they require a specialist home with very specific facilities and knowledge. For this reason, they tend to stay in our care for longer, and in the case of some of these pigs, we don't have any more room at our own centres so we rely on paying for private boarding farms to take care of them for us, and this can be really costly - we estimate a spend of more than £10,000 for these pigs currently.
Taking care of pigs requires a lot of time, knowledge, funds and space. They also need plenty of enrichment to keep them busy and content, such as toys like footballs.
What people need to keep pigs
For their accommodation, they'll need continuous access to a windproof and waterproof covered shelter which should have a thermally comfortable environment at all times, with a clean, dry, well-bedded lying area. Wood shelters or plastic insulated ones are preferable as they enable pigs to keep cool in summer and warm in winter.
During summer, they'll need to be provided with a wallow and adequate shelter from the sun, as pigs are prone to sunburn and sunstroke, as well as strong but safe fencing surrounding the enclosure to ensure they can't escape. Ideally, adopters would have two large fields that they could rotate the pigs' dwellings twice a year.
When keeping pigs, adopters will also need to have a CPH number from Defra.
This winter, we expect to rescue thousands of animals from neglect, cruelty and suffering. Already at Christmas, we received more than 44,000 calls to our cruelty line and the calls to our rescue line are not stopping. To help our rescue teams continue to reach the animals who desperately need us this winter, #JoinTheRescue.
---