RSPCA fears cost increase could lead to cat welfare crisis this kitten season
The RSPCA is highlighting the importance of neutering as it braces for an influx of cats during the kitten season.
The charity sees a peak in cats coming into its care between May and September - when most kittens are born - but, as the nation also faces a cost of living increase, the RSPCA fears that this will result in a cat welfare crisis with more cats being abandoned or relinquished than ever before.
Last year (2021) the RSPCA took 20,188 cats into its care and received 53,388 complaints regarding cats in need. This year's figures could prove to be even higher as the cost of living crisis takes its toll on people's finances and makes it difficult for many pet owners to afford routine vet appointments like neutering.
At the same time a shortage of vets and an increase in the numbers of pets means many practices are under a lot of pressure with waiting lists for procedures, or they aren't registering new clients. Planning ahead and registering with a vet as soon as possible, ideally before you get a pet, is strongly recommended.
The charity urges cat owners to speak to their vets about neutering as soon as possible and to keep any unneutered cats indoors with plenty to entertain them until they can be spayed.
Caroline Allen, Chief Veterinary Officer at the RSPCA, said:
We have long been highlighting the importance of neutering for cat welfare. Getting your cat neutered protects them from certain diseases, and prevents unexpected and costly litters of kittens being born.
The RSPCA, along with other cat and vet organisations, encourage people to get their cats neutered from four-months-old before they can become pregnant as a responsible part of pet ownership.
If you are waiting for an appointment to get your female cat neutered you must keep them indoors until they are 'done'. Even a short trip out could result in her getting pregnant! If you think this could have happened, contact your vet.
For many years, charities have seen a peak in cats coming into their care during kitten season when the RSPCA sees lots of abandoned kittens sometimes found in cardboard boxes, in bins, or dumped by roadsides as their owners could no longer care for them or weren't expecting a litter.
Caroline added: "As a charity we are under immense pressure, especially over the summer months and neutering can help tackle this issue.
"However, we know that many people are facing lots of financial pressures at the minute which is why we encourage cat owners to plan ahead, make sure they're registered with a vet, explore whether local charities can offer neutering vouchers in your area, and make sure to get pet insurance for those unexpected costs."
The RSPCA has so far seen an influx of rabbits as a result of the cost of living issues and fears that coupled with the kitten season, cat numbers could be set to grow to the same worrying levels. Cats Protection has also seen a 25% increase in the number of kittens handed over to its adoption centres since the start of the year.
Kitten rescues
The RSPCA rescued four kittens which had been abandoned in a supermarket crate in Holroyd Hill in Bradford on Saturday 14 May. They were spotted by a member of the public who realised the kittens needed help. The four-week-old kittens were dumped inside a crate and wrapped in blankets. Inspector Natalie Taylor rescued them and took them to a vet to be checked over. As they are so young, they are now being hand-reared by the vet nurse and they are doing well.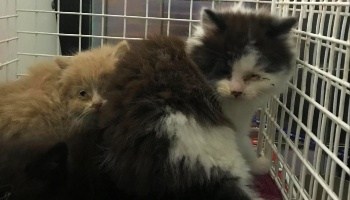 Four kittens were dumped in a plastic container in Merthyr Tydfil on Monday 25 April. A member of the public reportedly saw a car leave the box of kittens at around 6pm in the Vaynor area and drive off. Shortly after receiving the call, when RSPCA inspector Gemma Cooper arrived, just one ginger kitten was found in the box, and two black and white kittens had climbed out and had got themselves in a tricky predicament and were stuck up a tree! Together with the fire services, the RSPCA was able to rescue the kittens but sadly the fourth kitten is yet to be found. All three kittens - who are aged around six to seven weeks - are suffering from conjunctivitis and one is very underweight but they are now receiving some much-needed TLC in RSPCA care.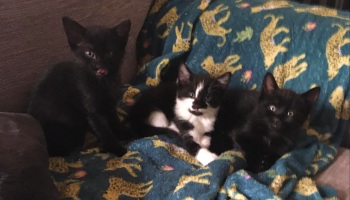 Three kittens around three weeks old were found dumped on a doorstep in Coniston Road, Swinton, in Manchester last month. They were found inside an apple box and wrapped up in a towel. They were taken to a fosterer for the RSPCA Manchester and Salford branch who has been hand-rearing them with a syringe of formula milk for kittens as they were so tiny. The two girls and one boy have now been named Poppy, Fern and Bud and are now seven weeks old and are doing very well.
Our frontline call takers and rescue teams are under huge pressure at the moment and we are prioritising our officers to attend the most urgent cases where their expertise is needed and others cannot help.
We receive around 3,500 calls a day during our busiest times and would urge people to check the practical advice online before they call us so emergency calls can get through as quickly as possible.
We are asking people to help us and animals by taking them to the vet, where it is safe for them to do so, as it may be quicker than waiting for an officer to attend, or to contact other organisations who may be able to help.
We work with other charities, such as Cats Protection, where possible and the charity is also bracing for an influx of cats coming into its care.
Alison Richards, Head of Clinical Services at Cats Protection, said:
In the first quarter of 2022, we have seen a 25% increase in the number of kittens being handed over to our adoption centres. We are also noticing a significant increase in the number of calls from people asking for advice and financial help. Life is expensive at the moment and the impact of the cost of living crisis is really going to start showing in the later stages of the year.

As kitten season starts we are strongly encouraging people to neuter their cats. Our objective is to minimise the number of costly unwanted litters, so we don't see vast numbers of cats left on the street or without a home.
Cat owners may be eligible for support through Cats Protection's means-tested neutering scheme. The average cost of neutering a cat ranges from £80 to £150. To see if you are eligible, you can check online or call Cats Protection's neutering helpline (Mon-Fri 9.30am-1pm) on 03000 12 12 12.
To help the RSPCA continue rescuing, rehabilitating and rehoming animals in desperate need of care please donate online or call our donation line on 0300 123 8181.