Constituents line up to urge their Senedd Members to 'pack the ballot' with animal laws
Members of the Senedd have an "amazing opportunity" to trailblaze for animal welfare as the Welsh Parliament's first ballot for Member-proposed legislation draws closer.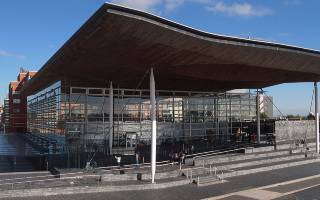 RSPCA Cymru have launched a list of ten ready-to-go Bills, and Senedd Members are being urged to put forward one of the animal-friendly proposals into the forthcoming ballot.
Legislative proposals from the RSPCA include those which would prioritise animal sentience, offer a better deal for pet owners in the sheltered, social or private rented housing sector, or ban the giving of pets as prizes. There are also plans to regulate animal sanctuaries and end the use of caged farm systems in Wales.
The ten proposed Bills are:
Animal Sentience (Wales) Bill

Animal Welfare Investigations (Wales) Bill

Regulation of Animal Sanctuaries (Wales) Bill

Cat Breeding (Wales) Bill

Pets in Housing (Wales) Bill

Glue Trap Offences (Wales) Bill

Pets as Prizes (Wales) Bill

Slaughterhouse and Abattoir Welfare (Wales) Bill

Animals in Planning (Wales) Bill

Cage Farmed Systems (Wales) Bill
As part of the RSPCA's 'Laws for Paws' campaign, members of the public are also emailing their representatives urging them to adopt one of the proposals and "pack the ballot" with animal-related laws - with thousands of constituent emails already finding their way to the post-bags of their constituency and regional Senedd Members.
With the ballot looming large, the RSPCA has also published an article with the Institute of Welsh Affairs highlighting how Senedd Members have an opportunity to show "the ambition needed for (Wales) to be a world leader in this field".
Under the ballot - the first of its kind for three years - Senedd Members have the chance to propose non-governmental legislative ideas; and one idea is drawn from the hat and has a chance to become law. Members must submit proposals by 17 September, with the ballot taking place on 22 September.
Chris O'Brien, RSPCA Cymru's senior public affairs and media manager, said: "We've waited a good while since the last Member Ballot - but this marks a truly amazing opportunity for Senedd Members to change the law for pets, farm animals and wildlife.
"The RSPCA is proud to have published ten ready-to-go Bill proposals which could all help Wales trailblaze for animals.
"From making it easier for people in the rented sector to responsibly keep pets, to banning cruel glue traps and ending the giving of pets as prizes, these legislative proposals will help Wales make great strides for animal welfare.
"Other plans include speeding up how quickly the RSPCA can help animals in need, regulating animal sanctuaries to offer assurances to the public and ending the use of cage farmed systems; as will soon be happening in many European countries.
"We've been overwhelmed by the support for this campaign from all corners of Wales - with thousands of constituents writing to their Members of the Senedd urging them to pack the ballot with animal-friendly proposals.
"But - as we know - only one idea gets pulled out of the hat; so we need as many MS' as possible to give animals a voice and support these proposals.
"As the days tick down to the ballot, we urge Senedd Members to seize this unique opportunity to help animals - and put forward legislative proposals which could make Wales an even better place for our fellow living creatures to live."
Residents in Wales can email their Senedd Members and support the #LawsForPaws campaign online.
---