RSPCA appeals for information after kitten is thrown over railings and abandoned
The RSPCA is appealing for information after a cat was abandoned in Ruskin Park after it is believed the poor tabby kitten was thrown over railings in her cat carrier.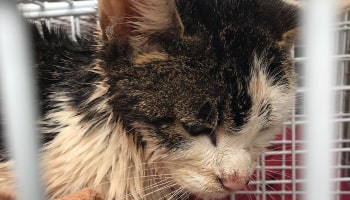 The young cat was found by a member of the public in Ruskin Park in Lambeth, London, on Sunday (22 August). She was shivering cold and soaked through to the skin from the rain.
The passer-by spotted her plight and contacted the RSPCA for help.
Inspector Harriet Daliday, who collected the cat, said:
This poor female tabby and white cat was found soaking wet with a broken plastic cat carrier. We believe she had been inside the carrier when she was thrown over some railings and dumped. This was a callous and cruel thing to do which meant this poor cat could have been seriously hurt and was left shivering, weak and alone.
We know that people's circumstances can change which may mean they can no longer care for their pet but there is never an excuse to abandon an animal like this. We would always urge anyone who is struggling to please reach out for help from friends or family, or charities like ourselves.
I am now appealing for anyone with information to please get in touch with the RSPCA on our inspectorate appeal line on 0300 123 8018.
The cat, who has now been named Britney, was taken to the RSPCA Harmsworth Animal Hospital for care. As well as being soaked and cold, Britney was also very underweight. Thankfully, she is now on the road to recovery thanks to the dedicated staff at the London animal hospital.
The RSPCA gets around 84,000 calls to its cruelty line every month and around 1,500 of those are about intentional cruelty. But the charity sees a rise in the Summer by around 400 calls, on average, per month. This means 47 calls every day or two every hour.
Donate to the RSPCA's Cancel Out Cruelty campaign and help us continue to rescue animals in need.