Mum and kittens abandoned in Welsh woods
RSPCA Cymru is appealing for information after a young mum cat and her four kittens were found abandoned in Blaenavon, Wales.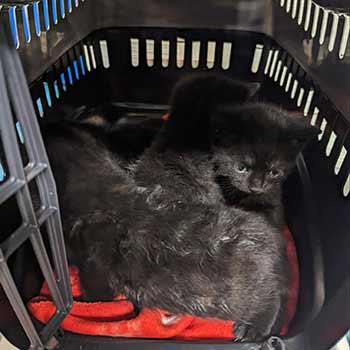 The black cats were found in a cat carrier on Wednesday 1 March in woods near the Greenfields Cycle track which is also near a train track. The kittens are believed to be around just three to four weeks old.
RSPCA Cymru is now calling on anyone with any information about these cats to contact the inspectorate appeal line on 0300 123 8018.
RSPCA deputy chief inspector Gemma Black said:
There's never an excuse to abandon an animal - it was very sad to think they were just left on their own. They must have been so frightened and cold.
The family has been checked over at RSPCA's Merthyr Tydfil Clinic and given the all-clear by the vet there.
They'll be off to a foster home while we continue with our enquiries and once they're ready they will be rehomed.
The RSPCA urges cat owners to take their pets to be neutered to prevent unwanted litters.
Gemma added:
Sadly, we see so many litters of kittens dumped because often owners have made a quick decision on getting a cat and can no longer cope, or the kittens have been an unplanned litter.
Kittens may look cute but the reality of caring for them can be hard work, time consuming and costly. We, and other cat and vet organisations, believe the solution to this crisis is to neuter cats from four months old before they can become pregnant and therefore would avoid these unwanted litters.
The RSPCA is providing dedicated cost-of-living support for worried pet owners, with a recently-opened telephone helpline on 0300 123 0650 and an online hub, which has lots of practical tips and advice, including details of pet food bank schemes.
To help the RSPCA continue rescuing, rehabilitating and rehoming animals in desperate need of care please donate online or call our donation line on 0300 123 8181.